Paul O'Grady speaks of sadness over absence of Cilla Black at panto opening night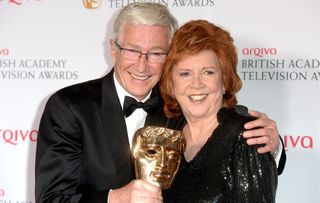 Paul O'Grady has spoken of his sadness over the absence of close friend Cilla Black at the opening night of his new pantomime in London.
Paul O'Grady has spoken about how much he misses his close friend Cilla Black, especially during the recent opening night of his new pantomime.
The TV star is appearing in the star-studded new show Cinderella at the London Palladium as the Wicked Stepmother.
But, when the panto opened to great fanfare, he was really missing the presence of one of his nearest and dearest pals.
Paul told The Mirror: "On the first night, Cilla would usually send me an orchid with 'sing out, Louise!' written on it.
"When I didn't get one this year … those small touches, well, you miss people. I think of her absence and say, 'thinking of you girl'."
Cilla died at the age of 72 at her holiday home in Spain in August 2015 after suffering a head injury after a fall.
Paul, 61, misses Cilla as a drinking partner, saying: "Cilla and I could drink anyone under the table, but now I'm a lousy, cheap date. A couple of drinks and that is me finished.
"I have a few at awards dos as they make me a bit nervous, but then I'm squiffy.
"And hangovers, they cripple me for three days – it's shocking."
Paul also said that it was sad that Cilla was unable to see her long-time friend Sir Cliff Richard cleared after sex allegations made against him were dropped.
The singer, 76, found out this year that he would not face charges over allegations of abuse against four boys, all of which were from more than 30 years ago.
Sir Cliff, who has launched legal action against the BBC and South Yorkshire Police over the case, retreated from public life during the two-year probe that saw albums and a biography postponed.
Paul said of Cilla: "I know it worried her."
He added: "Cliff was looking a lot better than when I last saw him, he was on fine form."
"I knew Cliff through Cilla as she was a great friend of his. I have seen him quite a lot over the years."
Get the latest updates, reviews and unmissable series to watch and more!
Thank you for signing up to Whattowatch. You will receive a verification email shortly.
There was a problem. Please refresh the page and try again.