Paul O'Grady selects the dogs that stole his heart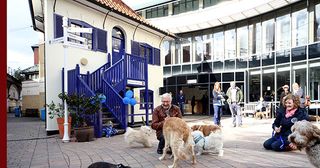 (Image credit: jesper mattias)
As For the Love of Dogs returns, the nation's most famous dog lover Paul O'Grady picks his favourite pets
As a new series of For the Love of Dogs (ITV, Thursday, Sept 1), takes to our screens Paul takes a look back over past series and shares his favourite four-legged co-stars, including the one from this series which stole his heart.
Paul has become attached to Prince, who has a tumour, no teeth and is very old.... from this year's show.
Paul just couldn't resist tiny puppy Eddie… "I took him at the very last minute of the last shoot of that series," he remembers.
"We went in to see this litter of puppies and I'd been told they'd all been rehomed. But Eddie hadn't. He was the runt and Rachel, the Head Vet Nurse, had to hand rear him. She was really worried about him so I said, 'Oh give him here!' He's feisty now, a real character, but Olga is still in charge of my dogs – she's like Ma Baker!"
Paul always flies the flag for Staffies, and lovely Tulip almost made it into the O'Grady clan. "I love Staffies, they're such nice dogs," he said. "They're unbelievably affectionate and they always look like they're grinning! They're so funny. There have been so many that I've been mad for, especially Tulip. Unfortunately Eddie took great exception to her and beat her up, he was a nightmare, so she had to go back to Battersea. She was lovely."
Dolly proved a hit on the show as her severe overbite gave her a 'distinctive' look. But it wasn't long before she managed to charm a new owner…
"Ahhh Dolly with her teeth! Some dogs I look at and, with the best intentions, I wonder if they'll ever get a home," admitted Paul. "But someone falls in love with them, every pan has a lid.
"She was a typical Shih Tzu, they always have those big overbites, it's just that hers was a bit more pronounced. She was sweet-natured though, I don't think she was quite aware of the way she looked!"
Carmine was brought into Battersea when he grew too large for his then-owners to handle. Paul still regrets not bringing him home to his farm in Kent.
"Carmine was definitely my favourite of all the dogs, I really do rue the day I didn't take him home with me," he said. "I loved that dog and we just clicked, he was smashing. He's got a great home now, but he came back to visit a year later and as soon as he saw me he was like a maniac. He's changed his name to Elvis!"
Paul entertained royalty when the Queen popped into Battersea for a visit. Battersea had never had a corgi before but, lo and behold, one turned up. The Queen was fascinated with him, but Beama the corgi was apparently very offhand with Her Majesty.
Get the latest updates, reviews and unmissable series to watch and more!
Thank you for signing up to Whattowatch. You will receive a verification email shortly.
There was a problem. Please refresh the page and try again.