Peaky Blinders star Helen McCrory: 'Aunt Polly is more dangerous than ever'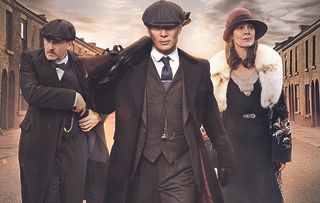 (Image credit: Robert Viglasky)
Helen McCrory thinks this year's series could be her character's best yet... Don't read until you've watched the first episode as contains spoilers!
Bullets flew and blood splattered as Peaky Blinders made an action-packed return to our screens tonight on BBC2. With the Shelby family fighting for their lives as the mafia closes in, the carnage seems unlikely to let up any time soon and Helen McCrory thinks this year's fourth series is the best yet!
"I couldn't believe it when Shelby family were all arrested at the end of the last series," says Helen, who plays Peaky Blinders matriarch Aunt Polly. "I didn't know where we were going to go next, but Steven Knight is such a great writer and he managed to get himself out of a really tight corner. When those scripts arrive I tear them open because I can't wait to see what's coming next and this series really is a step up."
Here Helen McCrory reveals to us more about what's in store for Polly in this series of Peaky Blinders... contains spoilers if you've not watched the first episode!
WOTV: The opening scenes of tonight's first episode saw Aunt Polly being led towards the gallows, how was that to film?
Having a rope around your neck is disturbing and it certainly has a psychological affect on you. I had a safe signal that meant that I wasn't acting and I wanted to stop the action. Thankfully I didn't need to use it!
WOTV: How much do you enjoy coming back to Peaky Blinders every year?
I love it because Aunt Polly is so original. Lots of scripts arrive on my doormat, but there's no one that comes close to her. We're also a really tight group of actors who are comfortable enough with each other to tell the truth, which is unusual. It's hard to lose your temper with someone you don't like, because everyone knows you really mean it! But if you all get on you're safe to say what you like.
WOTV: When you filmed the first series, did you imagine it would be so successful?
When they first pitched the show to me I thought; "What the hell are they asking us to do?" They kept saying, "Do you know Westerns? Do you like Nick Cave?" I didn't know what they were talking about. Nobody knew what to compare it to because it was truly original. As a show it's a one of a kind and I feel lucky to be a part of it.
WOTV: What effect does being led to the gallows have on Polly?
In this moment, which is a real turning point for Polly, we see her believing that she's going to die. She calls on the Virgin Mary to bring the spirits of her mum, her dad and her daughter to her. In that moment, she believes she sees her daughter's face and from this moment on Polly believes that she's living with the spirits constantly around her. Either she's had some sort of mental breakdown and is unable to cope with reality or she really does see the spirit of her daughter and therefore has this newfound understanding of life. Once you take away the fear of death in someone, they have a sort of immortality. Her near death experience mirrors Tommy and Arthur's time in the trenches. So these three characters are united in this fearless attitude towards life at the beginning of this series, which is what makes them so dangerous.
WOTV: Describe the events that bring Polly and the family back together in Small Heath?
Nothing brings people together more than the unification of what they hate. So Steven has written them under great threat and forces the family to come together in order to save themselves and therefore each other. With the return to Watery Lane the family become what most gangs are, very territorial. It's the classic gangster flick, the gang defending their home turf.
WOTV: What threat does Luca Changretta pose?
The threat to the family this year is personified in Luca Changretta, with the whole idea of this foreign power coming down on the lives of the Shelbys. When Luca arrives, even though he's only got a few men with him, he comes with a history and the powerful backing of the mafia. As soon as you hear the word 'mafia', it conjures up in your mind this international criminal threat. Luca is somebody who has never met any of us before so he isn't as impressed with the Peaky Blinders and what we as a family represent in England as everyone around them is. Though he is by the end of the series.
WOTV: How is Polly's relationship with Tommy tested this year?
Polly and Tommy's relationship right at the beginning is incredibly strained. We know that the hatred can be vicious when a strong relationship like theirs is tested and Steve really pushes their relationship to the extreme with his writing this year. The family dynamic has changed. At the beginning, Tommy and Polly are the furthest away from each other that they have ever been. Polly blames Tommy for her near-death experience. She's always been devoted to Tommy and he has rewarded her by almost killing her in order to make a point. Her pride has been dented and she is very hurt. So she hates him at the beginning.
Tommy also has control of her beloved Michael. As soon as Michael's life is threatened, she goes back to him in full protection mode. Then, when the family is threatened, she goes back to Tommy because they run the family as a patriarch and a matriarch, even though they're not together. They'll always put the family first before themselves.
WOTV: Now that Michael has crossed the line and killed (in series three), how does Polly go about protecting him?
In series three, we watched the impact of killing had on her son. It was so important to Polly that Michael should remain as the accountant in the company and keep his hands clean. Tommy has claimed Michael and this infuriates her because he has taken her son away from her.
WOTV: Tommy brings in Aberama Gold to add a bit of muscle to the Peaky ranks. Is he a trustworthy addition?
Maybe Tommy brings in Aberama because he feels like it might unite the family more or because he genuinely feels that he needs this man's specific expertise. What starts off as a man that Polly describes as a savage and a dangerous element, ends up being somebody that she becomes fascinated by quite quickly.
WOTV: How important is it to collaborate with costume designer Alison McCosh on crafting Polly's look for the new series?
I think it's really important to have that collaboration with the design team because as we move through history in the series the costumes are one of the quickest ways of telling the audience that the characters have moved on. I find it hard because for me, the archetypal Polly look is that very tight silhouette with the white shirt and tie. If I could do every single scene like that, I would. What Alison managed to do is give me that silhouette as soon as Polly becomes herself again so that the audience recognises this character as being back and ready for business. Alison has found a whole world of original pieces in Paris and Italy for this series. Peaky Blinders has a fantastic look about it and I feel that it is a key element to why the fans enjoy the series so much. It's nice to be able to show off these really beautiful pieces, which I hope the fans will enjoy.
WOTV: Are there any locations you have enjoyed returning to for the fourth series?
Steve's writes these great set pieces for us each series. To have all these different design elements all brought together in one scene creates something very special. This year we've had big set pieces, returning to Tommy's palatial house and Charlie's Yard, but with fewer people where it's been interesting to play those more private scenes in these large public locations. What has been great is returning to Watery Lane, a very recognisable Peaky Blinders location for the fans. It's a really clever conceit this year, how do you get everyone back together to the streets of Birmingham, where we all love being as the characters, Steve has created a wonderful scenario.
WOTV: How do the more raucous scenes with the extended family compare to the quieter personal moments between characters?
The big family pieces are always fun because we're not a conventional screen family. The Shelbys are always shouting at each other when they're together. I particularly enjoy my scenes with Cillian. As Polly, she can relax and be herself because she's with someone who's equally intelligent and equally cruel. He's not going to be shocked by what she thinks or feels. Also, for me working with Cillian, he's such a good actor that you almost don't need to act. You know that you can just let each take be completely different; it's a true collaboration when I work with him.
WOTV: What's the best thing about returning each year to play Polly?
Steven writes your character whilst knowing you as a performer and will therefore stretch you in that way. This year he's given Polly duplicity where even the audience won't be quite sure when she's telling the truth and when she's lying. What motivates her becomes much more difficult to understand. Steve's exploration of the character dealing with her living in this world between life and death across the series is fascinating. It's very interesting to see how a near- death experience has changed Polly. She has this attitude of just not caring anymore. Her journey is actually how the haircut came about. I thought it would be interesting to show how women started becoming rebellious by cutting their hair. We wanted to play with the audience and make them wonder whether she's had a break down, or just changed her look or even playing with the idea of masculinity and femininity, now that she's declared herself as Tommy's equal.
Peaky Blinders continues on Wednesday at 9pm on BBC2
Get the What to Watch Newsletter
The latest updates, reviews and unmissable series to watch and more!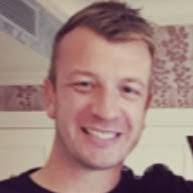 Feature writer for TV Times, What's On TV, TV & Satellite Week and whattowatch.com
Sean has been writing about all things telly for over 10 years and in that time he's been lucky enough to interview stars like Ian McKellen, Tom Hardy and Kate Winslet. His favourite shows are The Great British Bake-Off, People Just Do Nothing and Succession and in his spare time he enjoys drinking tea, doing crosswords and watching football.