Peaky Blinders' Sam Neill: 'If you don't like my accent blame Liam Neeson!'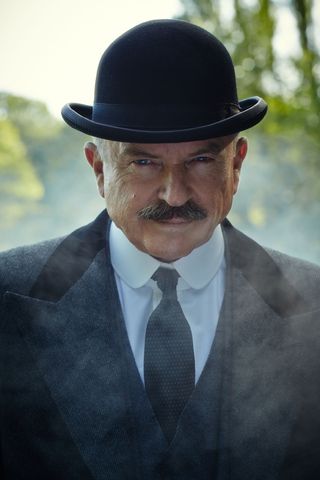 (Image credit: BBC/Mandabach/Tiger Aspect/Rober)
TV & Satellite Week (opens in new tab) talks to New Zealand actor Sam Neill (opens in new tab) about why he loves being back in period gangster drama Peaky Blinders (Thursdays, BBC2)...
What do you think of the character you play, Chester Campbell?
"I don't like Campbell. I feel for him, but that's not the same as liking him. Every monster has been damaged by something and I think he's had a terrible childhood – bad stuff's happened to him. I have this vision of him living in a cold and loveless house where he was beaten. A house with no love, no art and no conversation, but a lot of Bible and a lot of damnation."
How do you think it will end for Campbell?
"I know he's doomed. To an extent Campbell and Tommy are similar. But I think you can be optimistic about Tommy. Maybe there is some salvation at the end of the road – I doubt that's true for Campbell."
Do you think he loves anyone?
"Campbell does love someone. He's got a terrible man crush on Winston Churchill. That's the man he loves most in the world!"
What do you think of Peaky Blinders' style?
"I love the show's style. Our first director on the series, Otto Bathurst, set the tone really by saying: 'Everything about Peaky Blinders must be epic.' Otto is a great enthusiast for big Westerns, so a lot of the time on Peaky Blinders I feel the ghost of director Sergio Leone [whose films include A Fistful of Dollars and The Good, The Bad, and The Ugly] walking among us."
Do your friends enjoy the series?
"I share my DVDs of Peaky Blinders with my friends. They get completely hooked on them. I'm on Twitter and people tweet me all the time saying they absolutely dig the show."
Do you like having to play a part with an accent?
"It's the first time I've done an Ulster accent. I've certainly given it a good bash. It's a very graphic voice to use and I got a lot of help. Liam Neeson and Jimmy Nesbitt are both friends from there and they did a little work with me and I'm very grateful for that. They helped enormously so if you don't like the accent blame them!"
Get the What to Watch Newsletter
The latest updates, reviews and unmissable series to watch and more!