Penny Dreadful's Sarah Greene reveals it's 'easy to do love scenes with Josh Hartnett'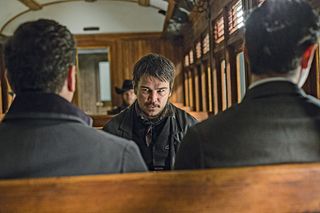 (Image credit: Jonathan Hession/SHOWTIME)
Sky Atlantic's Gothic supernatural horror drama Penny Dreadful returns for a third series on Tuesday, May 3, with more chilling characters added to the roster of mysterious and frightening beings taken from the pages of Victorian literature.
This time, Toast's Shazad Latif joins the cast as Dr Jekyll while the identity of fellow newcomer Sam Barnett's character will only be revealed in the shocking final moments of the first episode.
As the new series begins, TV&Satellite Week catch up with Sarah Greene, who plays Hecate Poole, a deadly shape-shifting mistress of the occult who, last series, orchestrated the death of her equally dark-hearted mother Evelyn (Helen McCrory) at the hands of Ethan.
What was it like filming the new series?
"We shot all the American West scenes in Spain… We were shooting in the desert every day on the old Spaghetti Western sets and we were riding horses through the Indiana Jones canyons. I got to ride a horse again, which I haven't done since I was 12. I took to it like a duck to water and loved it.
"Hecate goes on quite a journey with Ethan… She's aligned herself with him and is there to protect him, to save him from himself and to bring him to the dark side. That is her main mission and goal. Most of my scenes this series are with Josh [Hartnett, who plays Ethan]… That was fun. It is easy to do love scenes with Josh – he is very handsome and a lovely guy.
Josh Hartnett as Ethan
"I miss Helen McCrory terribly… She texted me recently saying, 'Do you miss Mummy?' She is such an incredible actress and was so scary in the show.
"I get to do a lot of action scenes… I try to do all my own stunts. The adrenalin is pumping so much when you're shooting that you don't realise until afterwards that you've got a massive bruise.
The most challenging scene I had to do was recite an incantation in the desert… Helen and Eva had done it incredibly well before so there was a lot of pressure. I haven't seen it yet, so I hope it comes off!"
SERIES 3 TRAILER:
http://www.youtube.com/watch?v=gCFABhWtqVc
Get the What to Watch Newsletter
The latest updates, reviews and unmissable series to watch and more!