Pete's Peek | Dario Argento's fantastique Inferno is still horror at its purest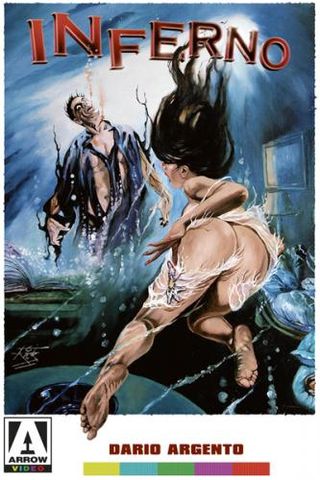 Argentophiles rejoice, Arrow Video continue their love for all things Dario Argento with the release of Inferno, the Italian maestro's 1980 follow-up to his cult horror classic Suspiria.
Inferno is without doubt Argento's most complex and original horror offering, and marks the zenith of his golden age as Italy's horror auteur. While his subsequent films (like Terror at the Opera, Two Evil Eyes, The Stendhal Syndrome and The Card Player) all contain Argento's unique vision, none can match the surreal heights that were achieved in Suspiria and Inferno.
Inferno begins with a woman called Rose (Midnight Express's Irene Miracle) discovering a book detailing the history of The Three Mothers, a trio of powerful entities who lived in three places, Freiburg (the setting of 1977's Suspiria, where the Mother of Sighs resided), New York and Rome (the setting of 2007's The Mother of Tears). Suspecting her Manhattan apartment block is the home of the Mother of Darkness, Rose investigates, but something is watching her...
In Rome, Rose's brother Mark (Leigh McCloskey) finds himself burdened with his own mystery. His best friend Sara is murdered, with Rose's letters still in her hand. When Mark rings Rose, their conversation is cut short. Suspecting the worst, Mark travels to New York where he discovers Rose has disappeared without a trace. What follows is Mark's delirious dream-like descent into the world of alchemy until he finally comes face to face with the Mother of Darkness herself.
With its wayward plot, filled with riddle after riddle - none of which get solved, Inferno can be difficult to follow. But if you sit back and let Argento's stunning set pieces take you in - from the flooded basement room to the explosive fiery finale - then you will be in for one hell of a ride. Plus, there's Keith Emerson's stunning prog-rock score (one of my favourites) to savour along the way, as well as hordes of cats, rats and ants to scare you silly.
This being the 30th Anniversary Edition, Arrow Video have given us fans a brand new, restored, uncut version of the film, while Alan Jones has penned a cool commemorative booklet. Posters and art sleeves aside, the special features include three specially commissioned interviews with Argento (just ok), Daria Nicolodi (fascinating, especially when Daria vents some old frustrations) and Starcrash director Luigi Cozzi (who made the difficult to come by Argento homage, The Black Cat).
Inferno is Argento at his purest and this Arrow release is a real must for all Argentophiles, especially the Blu-ray version which looks and sounds the best ever.
Released on DVD and Blu-ray http://youtube.com/v/p_wOOMdW5o0
Get the latest updates, reviews and unmissable series to watch and more!
Thank you for signing up to Whattowatch. You will receive a verification email shortly.
There was a problem. Please refresh the page and try again.