Peter Mullan thought they'd made mistake when he was cast in Mum!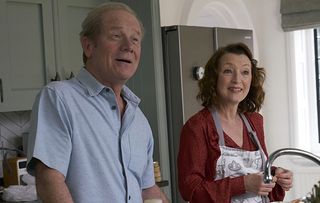 (Image credit: BBC/Big Talk Productions/Mark Jo)
Acclaimed actor Peter Mullan on why it's been 'terrifying' playing loveable Michael
Peter Mullan has made his name playing a host of unpleasant, often chilling, characters in hard-hitting dramas, such as BBC2 thriller Top of the Lake.
But his BAFTA-nominated performance in Mum has turned him into an unlikely romantic hero as we've watched his character, besotted Michael, quietly battle to win the heart of kindly widow Cathy (Lesley Manville).
But, while we can't imagine anyone else portraying Michael, it nearly didn't happen as Peter was convinced he was the wrong man for the job due to his lack of comedy credentials.
Here, Peter Mullan, 59, tells TV Times why he worried about playing it for laughs and reveals what he will – and won't! – miss about Mum when the current third and final series comes to an end…
How do you feel about Cathy and Michael now being together, albeit secretly because Cathy's son Jason (Sam Swainsbury) is hostile towards the relationship?
Peter Mullan: "Sam's performance is extraordinary – he's turned a lovable lad into someone who is struggling with his relationship with his mum, his dead dad and pathetic old Michael. But the bravest thing the writer Stefan Golaszewski has done this series was showing that Cathy and Michael have already been to bed together, so he got rid of the 'will they, won't they?' element. When I read that in the first episode, I thought I'd read the scripts in the wrong order. I didn't expect it."
Do viewers tell you they are rooting for Cathy and Michael?
PM: "Yes, folk always come up and say, 'Aww!' It's quite soppy and they have been lovely to play. Having two central characters being grounded within this place of madness means it's very real."
MORE: Gentleman Jack to come back for second series
Are you pleased with the way the final series ends?
PM: "Yes, it finishes as it should. The ending feels very natural – it doesn't feel forced with everyone having a happy moment".
Has Mum given you a thirst for appearing in more comedy?
PM: "No! Because the others are doing the funny stuff; I just play the straight guy. I don't think I've received so much as a titter. All I get is, 'Aww.' Michael only does bad jokes!"
You found it tough to get into the role at first, didn't you?
PM: "Yes, when I was cast, I genuinely thought they'd made a mistake because Michael was just so wet! I could not picture me doing it at all. It was terrifying. In the first series, I wandered around like Michael does in a daze wondering, 'When do I get to cut her head off?' Because that's normally what I do – I'm a bit lost without bloodshed!"
MORE: Former Coronation Street to join cast of The A Word for series three
Will you miss Mum?
PM: "I won't miss that terror! And any speech with more than four lines was nerve-racking because Stefan's a stickler for dialogue. If there's a pronoun out of place, you have to do it again. But I'll miss Lesley deeply. She's a genius, as are the rest of the cast. It was one of those rare occasions when we were all one big happy family."
Several of the other characters are constantly eating. How has Michael managed to dodge it?
PM: "I pride myself on never eating anything on screen because you have to do 25 takes! I just watch the other guys doing it, because it's horrible eating all day. I did have to eat a cupcake once, though!"
All six episodes of Mum are now available as a box set on BBC iPlayer.
Get the What to Watch Newsletter
The latest updates, reviews and unmissable series to watch and more!
Caren has been a journalist specializing in TV for almost two decades and is a Senior Features Writer for TV Times, TV & Satellite Week and What's On TV magazines and she also writes for What to Watch.
Over the years, she has spent many a day in a muddy field or an on-set catering bus chatting to numerous stars on location including the likes of Olivia Colman, David Tennant, Suranne Jones, Jamie Dornan, Dame Judi Dench and Sir Derek Jacobi as well as Hollywood actors such as Glenn Close and Kiefer Sutherland.
Caren will happily sit down and watch any kind of telly (well, maybe not sci-fi!), but she particularly loves period dramas like Call the Midwife, Downton Abbey and The Crown and she's also a big fan of juicy crime thrillers from Line of Duty to Poirot.
In her spare time, Caren enjoys going to the cinema and theatre or curling up with a good book.