Pete's Peek | A Serbian Film - Is it the new Salo?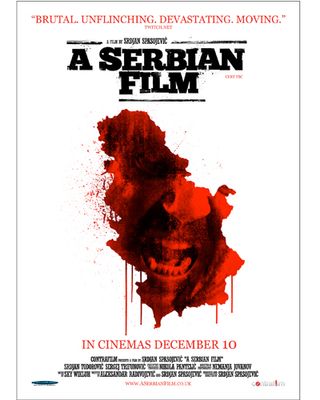 Critics have labelled it 'sick' and 'immensely indecent', and it has become the 'most cut' movie in recent times owing its graphic depiction of some truly eye-wincing acts of sexual degradation.
The feature debut of director Srdjan Spasojevic, A Serbian Film, tells the tragic tale of former porn star Milos (Srđan Todorović) who agrees to star in an 'art' film for an undisclosed sum that will set his wife and young son up for life. But what starts out as an avant-garde project - the kind you'd expect Matthew Barney to make - quickly turns into a real-life snuff film, and its insane director Vukmir (Sergej Trifunovic) will stop at nothing to ensure it is completed. Cue: some sickening scenes of rape and necrophilia…
Some 49 cuts were made by the British Board of Film Classification (BBFC) before it could approve the film's release in the UK. Those cuts were required to remove any possible elements that could eroticise or endorse sexual violence. What's left in the censored version is still very disturbing. So much so, I left the recent press screening numb.
Only one film I can recall has had such an effect on me – Pasolini's much reviled Salo. Famously banned in many countries for countless years for its depictions of sexual degradation, this 1975 political drama remains one of the most powerful cinematic statements about how politics controls our bodies, as well as our souls. After seeing that for the first time, I had to ask myself whether I was watching it for its graphic depictions or whether I was searching for something much deeper.
Like Salo, A Serbian Film doesn't set out to glorify cruelty, torture and sexual perversion. In fact, the filmmakers are adamant that their film is a moral metaphor that uses those themes to comment on the degradation, abuse and corruption that they, and their fellow countrymen, have endured in their home country.
While that might be the case, I saw something much more universal being played out in this graphic Divine Comedy for the 21st century – that man truly is at risk of losing his soul if he continues to worship at the altar of commerce. Now this is the real horror, and it's best captured in the film's frightening final frames.
Repellent imagery aside, A Serbian Film is an intelligent and meticulously directed piece of cinema, boasting some powerful performances (especially Todorović, who carries the film). It's also challenging, forcing you to question all manner of things – the most important being: 'How far can we push the boundaries of art?'. Let the debate begin…
On general release, 10 December On DVD and Blu-ray, 3 January 2011
http://www.youtube.com/watch?v=kR8jwhHyvkU&fs=1
Get the What to Watch Newsletter
The latest updates, reviews and unmissable series to watch and more!