Pete's Peek | Peter Greenaway's Roman love letter The Belly of an Architect gets a new lease of life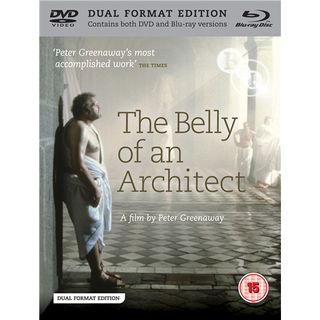 When it comes cities on film, Rome is pretty hard to beat. With its wonderful architecture, both ancient and modern, so fused with the history of man, and indeed the world itself, it makes for an incredible backdrop. For Peter Greenaway, a director who uses colour, composition and the language of the cinema to create extraordinary films that look like baroque or renaissance paintings come to life, Rome was the perfect fit for his 1986 feature, The Belly of an Architect, which gets a Dual Format BFI release on 18 June.
The story follows an American architect Stourley Kracklite (Brian Dennehy) who comes to Rome to curate an exhibition devoted to his mentor, Etienne-Louis Boullée - a French neo-classical architect famous not for the buildings he constructed, but for the influence he had on architecture itself, particularly the 20th century Fascist style. Over the course of nine months, Kracklite's world falls apart as his wife (Chloe Webb) falls pregnant, his stomach begins to exert signs of cancer, and a younger rival (Lambert Wilson) steals the project and his wife from under him.
This is all played out against Rome's major landmarks, shot by Greenaway's regular cinematography, the late Sacha Vierny (famed for his work with Alain Resnais and Luis Bunuel), and fused with Wim Mertens' mesmerising score. In fact, the human drama soon becomes dwarfed by Rome's historical wonders: including the Mausoleum of Augustus, the Pantheon, the Victor Emmanuel monument, and Mussolini's fascist monument, the EUR (which has also appeared in films like Michelangelo Antonioni's 1962 drama Eclipse and the 1964 Vincent Price sci-fi The Last Man on Earth). But like Fellini's Roma (probably the best film about the Eternal City ever made), Greenaway has created a cinematic homage from his unique palette rather than a mere travelogue. Belly of an Architect might not have the kudos of the director's best known works, A Zed & Two Noughts (check out the Blu-ray release here) or The Cook, the Thief, His Wife and Her Lover, but it's so stunning to watch that it certainly deserves to be applauded (to paraphrase a quote from the film).
The BFI Dual Format edition is presented in both High Definition and Standard Definition, and includes the vintage Insight short on designer Terence Conran, featuring a score by Michael Nyman, and a booklet of essays.
Get the latest updates, reviews and unmissable series to watch and more!
Thank you for signing up to Whattowatch. You will receive a verification email shortly.
There was a problem. Please refresh the page and try again.