Poldark star Eleanor Tomlinson: 'I've kept Demelza's corset!'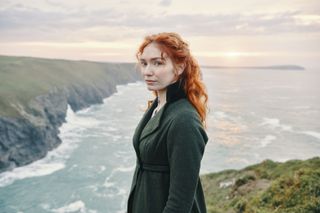 (Image credit: BBC/Mammoth Screen/Mike Hogan)
Eleanor Tomlinson on what's been rocking Demelza's world this final series of Poldark and the bizarre memento she took from set...
Poldark star Eleanor Tomlinson has been gracing our screens as Ross's wife Demelza since the Cornish costume saga became top Sunday night viewing five years ago.
But there's been little in the way of sunshine for poor Demelza since the fifth (and final!) series kicked off, what with Ross (Aidan Turner) rubbing shoulders with renegade Irishman Ned Despard and stirring up trouble with his latest adversary, evil slave owner Ralph Hanson.
Here Eleanor, 27, reveals to TV Times more about what's in store for Demelza and how she felt saying an emotional goodbye to the character she loves…
TV Times: How's Demelza's relationship with Ross this series?
Eleanor Tomlinson: "Well, there's lots of turmoil again because it's Ross and Demelza. What else would you expect? But we also see them growing up a bit and working as a team and Ross having to realise the importance of honesty. But Ross will never be tamed and there are lots of storylines where their relationship is tested. She actually has a bit of a showdown herself later in the series and saves his little tush so I'm looking forward to the viewers seeing that!"
TVT: Does she get on with Ross's friend Ned or does she think he's a bad influence?
ET: "I think Demelza has spent so long trying to get Ross to think about family life and suddenly Ned comes in and leads Ross astray. She always says to Ross, "you can only change your own little corner", but he never listens to that that! There are lots of tear jerking moments, a lot of angst, a lot of love and a lot of heartbreak – it's classic Poldark really!"
TVT: But she makes friends with Ned's wife, Kitty, doesn't she?
ET: "Yes, Kitty comes from a similar background to Demelza in that she was her master's servant and they ended up falling in love and marrying. Demelza and Kitty become really great friends and I think they sort of roll their eyes together a bit about Ned and Ross and what a terrible two they are and how they egg each other on."
TVT: Were you sad to say goodbye to Demelza when you finally finished filming?
ET: "Yes! But when you're lucky enough to play a character like Demelza, you carry it with you forever. There will always be a bit of Demelza with me in every role that I do and I wouldn't have it any other way, I'd be lonely without her. I feel like there's the strength of Demelza right behind me, which is lovely. I'm even going to keep my hair colour. I like it. I feel I've established myself as a redhead now!"
TVT: What was the Poldark wrap party like?
ET: "We had the wrap party a whole week before we finished filming so it was a bit strange and potentially very embarrassing! But actually when we did wrap it was just a totally surreal experience – I couldn't believe it was over!"
TVT: How did you feel on the last day then?
ET: "Absolutely hysterical! I'm really going to miss the cast and crew. I'm really going to miss Aidan Turner, too – we have a brilliant bond and a brilliant relationship and it's going to be very strange not going to work with him. If I can say one thing about Poldark it's that we've become such a family, there's no way on this planet that I'll let any of them go. So yeah, I'm feeling very bittersweet about it but it's time for the next adventure, whatever that will be!"
TVT: Did you take any mementoes from the set of Poldark?
ET: "Actually I've kept Demelza's corset, it's one of the only things I kept as a sort of reminder of the discomfort! I've worn it for five years so it would be weird not to have it! I also took some of the love letters that Hugh Armitage wrote Demelza in series four and some of the letters that she wrote with the little 'D' wax stamp and the little stamp as well. I also kept another bit of costume, but I'm keeping that a secret!"
Interview by Hannah Davies
* Poldark continues at 9pm on BBC1 every Sunday
Get the latest updates, reviews and unmissable series to watch and more!
Thank you for signing up to Whattowatch. You will receive a verification email shortly.
There was a problem. Please refresh the page and try again.