Poldark star Aidan Turner: 'I do a lot of sword-fighting this series!'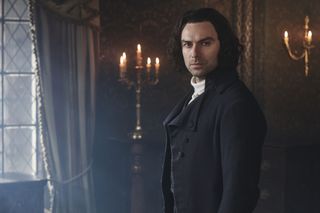 (Image credit: BBC/Mammoth Screen/Mike Hogan)
Aidan Turner reveals what happens in BBC1's explosive final series of Poldark...
There's an assassination attempt on the life of King George III, a raging fire at Nampara and an alarming new nemesis for Ross Poldark packed into the first episode of the fifth – and final – series of BBC1's hit Cornish costume saga Poldark.
Aidan Turner and Eleanor Tomlinson return as Ross and Demelza while his perpetual enemy George Warleggan (Jack Farthing) is still coming to terms with the untimely death of his wife Elizabeth and seems to be losing his mind, making him more dastardly than ever!
The action picks up in 1800, just months after Elizabeth Warleggan's tragic death. But Ross and wife Demelza barely have time to raise a glass to the new century when Ross is called to London on a daredevil mission to free his old Army friend, Ned Despard (Vincent Regan), from prison.
Of course, Ross can't resist a chance to right a wrong, especially if it means ruffling the feathers of the establishment. But his epic undertaking puts him in real danger.
TV Times recently met up with Aidan Turner to chat about what lies ahead for hero Ross Poldark and his family, and hear why this is Aidan's favourite Poldark series to date…
TV Times: Hi Aidan! So tell us how Ross Poldark's life has moved on since the last series of Poldark?
Aidan Turner: "It's moved on a considerable amount. He's grown up a lot and has a better sense of responsibility. He's still impulsive and he has a natural attraction to menace, but I think all round he's a better person. He's certainly kinder to Demelza!"
TVT: Their relationship has certainly been a rollercoaster! How are things between Ross and Demelza now?
AT: "We see them in a place of peace, but for how long it lasts I don't know! Ross spends a lot of time in London and Demelza is once again at the helm in Cornwall, so they spend a lot of time apart. It's when Ross tries to carry the weight of the world by himself that things tend to go awry between them because he's quite secretive, but their dialogue is healthier now."
TVT: This series of Poldark has lots of exciting new characters. What's that been like?
AT: "It's always great to have new blood in, and it works well with the story. It's an exciting series, more so than any other, I think. But because it was the last, there were poignant moments, too – the last time I got up on a horse, the last time I put on the tricorn hat – although it does feel nice not to have to get up at 5am every morning!"
TVT: Tell us about Ross' friendship with Ned Despard, who Ross goes to great lengths to free from jail…
AT: "Ned is someone Ross met on the battlefield during the American War of Independence. Ned saved Ross' life and Ross has very much used Ned's character as a template for his own life. He's a real man of the people with a sense of social justice. We had a really great relationship on set. He's good with a sword as well!"
TVT: We hear Ross gets caught up in a lot of sword-fighting this time…
AT: "I do a lot of sword-fighting this series of Poldark and it was fun. We've had pistols, but we've never actually seen Ross sword-fight before. I'm pretty useful with a sword now I think, although I picked up a few bruises!"
TVT: During filming, were you conscious of this being the last ever series of Poldark?
AT: "It's weird, when you try to make it memorable, it's not that useful because there's still a job to do. Right now it's just nice to have completed it!"
* Poldark Series 5 starts on BBC1 on Sunday July 14 at 9pm
Interview by Hannah Davies
Get the latest updates, reviews and unmissable series to watch and more!
Thank you for signing up to Whattowatch. You will receive a verification email shortly.
There was a problem. Please refresh the page and try again.