EXCLUSIVE! Poldark star Heida Reed on THAT shock exit...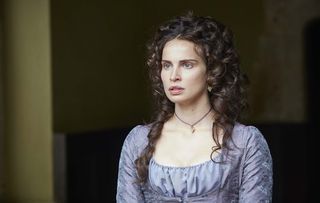 (Image credit: BBC/Mammoth Screen/Mike Hogan)
SPOILER ALERT! Don't read on if you haven't watched tonight's Series 4 finale of hit BBC One Cornish costume saga Poldark.
The heartbreaking finale to Series 4 of Poldark saw the tragic death of Elizabeth Warleggan, played by Heida Reed, after she took a dangerous tonic designed to induce an early labour.
Ever since Elizabeth gave birth to son Valentine in series three, her husband George has tried to bury his fears that he's not the lad's real dad. But after a remark by Geoffrey Charles - Elizabeth's eldest son with Francis Poldark – last week that Valentine looks the spit of their uncle Ross Poldark, George has been growing increasingly paranoid again.
So having already faked Valentine's premature birth, tonight fans saw Elizabeth, under a fake name, visit a dodgy doctor who gave her a potion to bring on a second early labour in a bid to show George that she habitually gives birth pre-term and convince him once and for all that Valentine is his child.
However, after their daughter Ursula was born, Elizabeth fell seriously ill and, not wanting to admit that she had taken the tonic, shortly after tragically died at Trenwith.
whatsontv exclusively caught up with Heida Reed to talk about her exit from the drama…
Your last scene left viewers in tears. It must have been very emotional for you to film?
"Yes it was. Elizabeth has a line where she says 'I'm afraid of the dark', it is a very short line but it was enough to make me go, 'Oh man, I'm leaving you guys, I don't want to.' I'll definitely still see my co-stars though and I won't take it for granted because I won't see them at work anymore."
As an actor, were you pleased to leave on such a strong storyline?
"Yes absolutely. That's all to do with writer Debbie Horsfield being amazing at writing for women and developing a woman's story, especially one that's not always the main focus. Elizabeth might be seen to a lot of people as a trophy but you'd never underestimate her character that way."
What's your take on why Elizabeth resorted to such drastic action by obtaining a tonic?
"Elizabeth started worrying about having to match up the dates of her pregnancy because George thinks Valentine was premature. She felt like she had to keep that façade up so he didn't suspect anything and that was the main thing on her mind. They had a good amount of time where they're happy this series and she didn't give it much thought until Geoffrey Charles innocently mentioned that Valentine is the spitting image of Ross. George's suspicions started to arise again and that really put a strain on their relationship and she felt there was no other way but to find a way to make sure this baby came prematurely. The sad thing is that Ursula is his child, she was just trying to make up for past mistakes."
With so many people having read Winston Graham's books and watching the original 1970s TV series, was it difficult keeping your exit a secret?
"People in the most part are respectful. I make it a point not to get involved on social media in terms of anyone who wants to discuss storyline as I would never spoil things, especially since the United States doesn't get Poldark until a month later. However there are some people on social media who will just blurt it out!"
There was loads going on for Elizabeth in Series 4
"I really enjoyed filming it and not just because I knew it was my last. Elizabeth and George were more like a power couple this series, obviously George still got up to his secret antics but mostly they were working together and trying to empower each other, which was a fun change for me to play."
Have you taken any mementos from your time as Elizabeth?
"They gave me the vial that Elizabeth used for her laudanum drops and I was like, 'Oh great' because it's beautiful but I really hate that vial because it leaks and every time I was holding it I ended up with this tiny puddle of water in my lap. But actually it's a perfect little memento because it's not too big so I can take it with me. The cast and crew also gave me a slate of the last take of the series. They gave me a good send-off. They've been the most wonderful people to work with."
What are your favourite memories of playing Elizabeth?
"There are a few scenes I'd definitely pick out because they were just rewarding, for example, the one with Jack Farthing [George] at the end of Series 3 when Elizabeth makes him cry. It was really great to see that turning point for Elizabeth and her claiming her power, and also because Jack and I worked really hard on that scene. It was the result of teamwork, which I love."
Any other top moments?
"The scenes I remember the most are probably the ones that didn't go as well mostly because we couldn't stop laughing. I think most people will tell you that I'm not very good at containing myself – I'm like a kid in school! My favourite scene was the Christmas scene in the first series where Demelza sings and Elizabeth plays the harp. It was like a musical and really fun because all of us were there together and we were laughing so hard throughout the entire thing!"
Will you tune in for Series 5 of Poldark?
"Oh yes! I think it will be more fun for me to watch now as it's always hard to see yourself on screen so now I'll be a lot more attentive!"
What's next for you?
"I've been spending some time in LA and I'm writing a blog (opens in new tab) at the moment and each month I focus on something I want to change, for example, I've recently done a post focused on positivity. It's fun to have some time to work on a passion project and better yourself in the meantime. I travel so much so it's lovely to be able to have something you can do anywhere."
And might we see you back on UK TV screens soon?
"I'm hoping I won't be away for too long!"
Thank you for signing up to Whattowatch. You will receive a verification email shortly.
There was a problem. Please refresh the page and try again.