Reece Shearsmith: playing autistic detective was 'awkward, but it's not Rain Man' (VIDEO)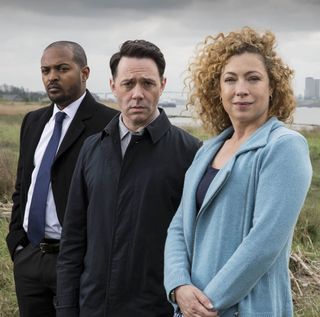 (Image credit: Patrick Redmond +353872600976)
Reece Shearsmith, star of ITV's upcoming thriller Chasing Shadows, has admitted he loves to play intense characters because he can get more out of them.
Reece, who recently starred as a wife killer in ITV drama The Widower, plays autistic detective Sean Stone in the new crime drama, about the work of a missing persons unit.
"Sean was a hard character to play because I was robbed of all the usual devices when you act a scene - looking someone in the eyes, connecting," says Reece. "One of the traits of autism is that they rarely look people in the eye. To never look anyone in the eye was really awkward. But this is not Rain Man. It's much subtler than that.
"Sean can be rude and blunt. There's no reason for him to do the niceties. He's only
interested in the data so it doesn't matter that he has to be sensitive to the parent
whose child is missing.However uncomfortable it might make you feel, you believe in his passion. You'd want Sean on side because he's got such a great, quick mind."
Reece stars alongside Alex Kingston and Noel Clarke in the four-part series.
Former ER star Alex plays senior analyst Ruth Hattersley, "a civil servant working in the detective world," says Alex.
"Ruth is more hands on dealing with the families of the missing people, which is something Sean has no capacity for."
Former Doctor Who star Noel plays detective Carl Prior, "a very sharp, smart young detective", says Noel.
"Carl does it by the book but can work close to the line. He's the glue that brings them together. Sean is the maverick, who acts on his instincts, while Ruth is the sympathetic, empathetic one."
Watch a preview clip of Chasing Shadows here.
http://youtube.com/v/RQnajzgRccE
Chasing Shadows begins on ITV, Thursday, September 4, 9.00pm.
Get the What to Watch Newsletter
The latest updates, reviews and unmissable series to watch and more!