Rick Stein searches for the perfect curry in India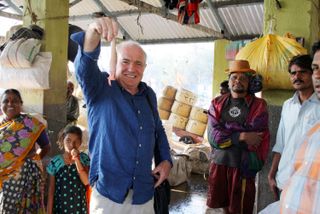 Rick Stein talks to TV Times magazine about giving his taste buds a roller-coaster ride in his quest for the perfect curry in Rick Stein's India (BBC2, Monday)…
What is the first thing that curry makes you think of?
"Whenever I hear the word curry, I'm filled with a longing for hot, spicy food. Curry is one of our nation's favourite dishes and as I've hardly filmed in India, I thought the time was right to go in search of the perfect curry. No other food gives the taste buds such a roller-coaster ride, nor is so complex."
You're more known for your love of fish than spice...
"True, my first love is seafood, but I do cook other things. Saying that, there are more fish recipes in the series and accompanying book than any other, because for me, fish curry is the most memorable dish India has to offer. I remember tasting my first on a family holiday in Goa in the early Eighties. It was a revelation – the incredible strength of flavour in the fragrance and heat."
Doesn't spice overpower the delicate taste of fish?
"European cooks think chilli, coriander and turmeric ruins the flavour, but the Indians couldn't care less and frankly, if the seafood's fresh, nor could I! The sweetness works in some mysterious way with the spice and makes it taste better in my view. Albert Roux told me he doesn't like curry because it doesn't go with wine, but it doesn't half go well with a beer!"
Tell us about your journey…
"It was mind-blowing. I spent three months travelling through the Indian sub-continent, tasting curries and watching cooks, trying to find out their secrets and discover the perfect curry. Of course, that's a bit like trying to find the world's best restaurant – impossible because they're all so different! So from the street food of Calcutta to the regal cooking of Rajasthan, I tasted samosas, pakoras, aloo gobis, tandooris, kormas, rogan josh – and thought, 'Could this be in my Top 10?'"
Did one stand out as your favourite?
"The perfect curry for me would have to be the snapper with tamarind and tomato from Mamallapuram. It wasn't just about the curry though, it was the whole experience: we were on a beautiful beach with green, yellow and blue boats bobbing on the sea, cows walking on the beach and then this cook with amazing snapper offering to make us a curry. It was a complete assault on the senses. What I wouldn't give to be back there right now!"
Did you try the street food?
"Of course, I loved it. They're real artists, these street cooks. It's highly competitive on the street so it has to be good to entice the locals. I couldn't get enough of a dish in Mumbai called lilo chevda: roasted rice and crispy fried potato shreds mixed with cashew nuts and raisins, softened with lime juice. Sensational."
What's your favourite memory of the trip?
"Finding myself in a field of cauliflowers outside Deogarh in Rajasthan. It was a magical scene and reminded me of frosty cauliflower fields back in Padstow – yet this was surrounded by tropical palm trees and chillies! Ladies in blue, yellow and pink saris cut the cauliflowers and we later feasted on aloo gobi - potatoes, cauliflower, tomatoes and onion sprinkled with coriander, which I love."
Anything surprise you?
"There are over 600 million vegetarians in India – almost half the population. It makes you question our culture: why do we eat so much meat in the West? We almost look down on vegetarians, but it's the reverse in India. You truly don't miss meat because the spice makes the veggie dishes so good."
So your top tip for cooking a mean curry?
"Instead of cooking the onion, garlic and ginger for a few minutes before adding everything else, cook them for at least ten minutes to let the onion sweeten. And chop the onions very finely – even puree them in a food processor. It adds a texture to the curry that's really special."
Get the What to Watch Newsletter
The latest updates, reviews and unmissable series to watch and more!