Sarah Lancashire reveals how her role in hard-hitting C4 drama Kiri ranks up there with playing Catherine Cawood in Happy Valley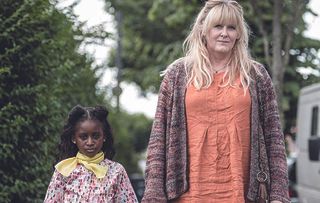 (Image credit: Gary Moyes)
Sarah Lancashire: 'Playing a social worker in my new drama Kiri was one of my favourite roles!'
Happy Valley star Sarah Lancashire is no stranger to powerful dramas, but her latest role in C4's Kiri is possibly her most hard-hitting yet.
The four-part series stars Sarah as Miriam, a Bristol social worker, who arranges for a young black girl in her care called Kiri to have an unsupervised visit with her biological grandparents. But during the visit Kiri disappears and is later found murdered.
As a manhunt is launched, a devastated Miriam is held responsible and suspended from her job, but the case isn't as clear cut as it seems.
Here Sarah Lancashire tells What's On TV all about Kiri...
What appealed to you about playing Miriam? "She got under my skin very quickly. She's complex, direct, forthright, human and flawed, and she knows she can unsettle people with her humour and her wit. I think she's guided very much by her intuition and her huge heart. But, of course, it's not always right and in this instance it's catastrophically wrong."
Did you do any research into being a social worker? "We had a week's rehearsal before we started and that was an opportunity to ask any questions we needed to. It's an odd thing, we don't ever hear great things about social services, it's always the negative that hits the headlines. But this is less about what Miriam does and more about how she handles what she has done."
Miriam's a big drinker. Is that because of the pressure of her job? "The reasons behind her drinking become more apparent with each episode. It's her fortification. Her need to drink is partly to do with the fact that she's on a crusade. She needs to do good in this imperfect world, but she doesn't necessarily have the emotional buoyancy to do it. Also she has had a great loss in her life and that's her way of dealing with it. She's alcohol dependent and probably an alcoholic."
You've said playing Catherine in Happy Valley was one of favourite roles. Where does playing Miriam rank? "Pretty close! It's just the way these characters are drawn on the page. They live and breathe and you can hear them and smell them – that's a rare thing. When I see them on a page, it's exciting."
How did you get on with mastering the Bristol accent? "Miriam has been written with this beautiful musicality so my accent prep was just shutting myself away at home with a few YouTube clips and listening to the accent. Where possible I tend not to use a dialect coach purely because I have to find it in my own time and I can't have it imposed on me, otherwise it's hopeless. I also stayed in the accent when we weren't filming, though that wasn't intentional!"
Sue Johnston plays Miriam's mum. Have you acted with her before? "No, this was the first time we've worked together. I'm quite surprised it hasn't happened before as we've known each other for ages! It was divine. She's delightful and a brilliant actress."
Miriam's quite a lonely character, but she does have a dog, Jessie… "Yes, I was so relieved to have the dog to be honest because Miriam isn't really affiliated with any other character, so there wasn't anybody for her chat to or bounce off. The real dog's name was Chase and he was lovely. We did have a wee love affair, so when he's licking Miriam's face there was no honey or anything involved, that was just love!"
Is he your dream co-star now? "You know what, he probably is because I love dogs, so it was lovely to have him. That old adage about not working with children and animals is a terrible misconception – actually it's a dream!"
Kiri, starring Sarah Lancashire, begins on Wednesday January 10, at 9pm on C4
Get the latest updates, reviews and unmissable series to watch and more!
Thank you for signing up to Whattowatch. You will receive a verification email shortly.
There was a problem. Please refresh the page and try again.