Scott Maslen: 'I had no idea I'd be up against my Strictly partner Natalie on MasterChef!'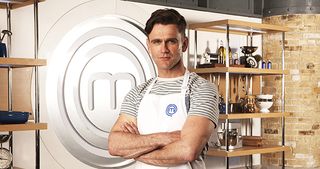 (Image credit: BBC/Shine TV)
Scott Maslen (opens in new tab) and Natalie Lowe were a memorable dream team on Strictly Come Dancing. The former EastEnders star and his professional dance partner impressed the judges with their Viennese waltz and jive finishing an impressive fourth in the 2010 series.
So you can imagine their surprise – bordering on horror – at finding themselves competing against each other in the final heat of next week's Celebrity MasterChef?
TV Times (opens in new tab) finds out how Scott will cope with his former Strictly partner Natalie as a rival in the MasterChef kitchen...
Did you know Natalie was going to be contestant on the show?
"I was shocked when I walked in the door and saw Natalie. I had no idea who I'd be cooking against, but never dreamed it would be her.
"It was lovely to see her of course, as we're great mates, but I did think, 'Oh no, that's their angle: we competed with each other, now we're competing against each other'.
"So we decided to help each other out instead – ha!"
We know you can strut your stuff on the dancefloor, Scott… but what about in the kitchen?
"I can cook if that's what you mean! Luckily we didn't have to dance while cooking. Can you imagine…Strictly Come MasterChef? That could be a good marriage – having to do a tango while cooking paella. Match your dance to the cuisine! Now there's an idea for the future."
Sounds brilliant! So what kind of a cook are you?
"I can get by. I taught myself when I was 18 and turned vegetarian; I had to really, as options for veggies were pretty limited back then. Luckily it was in my modelling days when I was travelling the world, staying with locals in Italy and Paris who taught me how to cook food authentically. One of my specialities is a vegetarian bolognaise full of wine and aromatic herbs and spices. I love it when people say they can't tell it's meat-free."
So you weren't scared when you got the call-up to MasterChef HQ?
"Oh, you always panic at the thought of being under the microscope in front of millions of people! Same with Strictly, but as they both involved learning a real skill, I was interested. And because I love food and cooking, my son and wife Estelle said it was a no-brainer."
Did you know you'd be competing against Natalie?
"No, I honestly didn't. They're so secretive about the other contestants taking part – it's like the Cold War!"
Did you see each other as rivals?
"Much as she's lovely, Natalie's a highly competitive individual – she's competed all her life so she went for it. I don't think I'm that competitive, but everyone said it came out – not in a horrible way I hope, but you start to care about the competition and want to stay and achieve more. We both just got our heads down and tried to do the best we could."
How did you do in the mystery box challenge?
"I opened it up, saw a bunch of ingredients and my mind went blank. Then the other contestants began running for stuff so I just started to grab! I cooked a risotto, which was quite basic, but John and Gregg seemed to like my seasoning. I loved the buzz of working in a professional kitchen and for the final challenge cooked a koshari rice dish and noodles. I'm not sure my presentation is the best, mind."
We hear Natalie overdoes the chilli in one dish…
"She nearly blows John's mouth off, which is not what you really want to do to a judge! She's a great dancer, but when it comes to food she experiments a bit."
So how does MasterChef compare to your Strictly experience?
"Strictly was more physically intense because you're learning to dance in a few days, but MasterChef is mentally tough. Both are about learning new things, not having enough time to practice and feeling the pressure. At least I don't have to wear sequins or fake tan this time!"
Shame! The Strictly glitterball trophy was once in your sights – do you hope to go all the way this time?
"Of course. I wasn't desperate to win the MasterChef trophy when I first walked in the kitchen, but you get completely sucked in. I want to go as far as I can and want Nat to do well, too. She's an absolute love and was so good to me on Strictly. We've been through a lot of pain together!"
You took a break from acting after EastEnders. You're not tempted to become a chef now are you?
"Ha, no I'm not, as much as I respect their talent. I worked for 14 years straight and only had two weeks off between finishing The Bill and joining EastEnders. I was exhausted to be honest. It's easy to get caught up in the madness of this industry and I've seen enough people burn out to know I needed to stop and regroup,else your attitude and energy becomes jaded, less positive.
"I love fishing so I went away and did that – it just went on longer than planned! But it recharged my batteries. I was in E!'s The Royals [with Elizabeth Hurley] this year and I'll be doing the follow-up. I've got my mojo back. I'm hungry again. Quite literally, doing Celebrity MasterChef!"
Get the latest updates, reviews and unmissable series to watch and more!
Thank you for signing up to Whattowatch. You will receive a verification email shortly.
There was a problem. Please refresh the page and try again.