Strictly judge Shirley Ballas reveals why she's ready to start dating again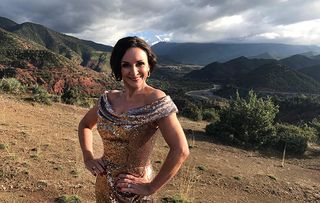 (Image credit: ITV)
Shirley Ballas reveals how her new This Morning segment Matchmaker Mountain has inspired her to start dating again...
Get ready to see Strictly head judge Shirley Ballas as you've never seen her before, as she plays cupid in a Love Island-inspired segment for the over-50s on This Morning.
She's whisking six singletons (three men and three women) to a glamorous Moroccan retreat and then setting them up on a series of dates, including camel riding, cookery classes and spa days.
Here Shirley, 58, who has been single for three years, tells writer Hannah Davies how the experience has rekindled her desire to find someone special for herself, why Strictly Come Dancing has given her a new inner confidence and what her unexpected dream presenting role would be...
Shirley Ballas speaks to TV Times
TV Times: So what made you want to get involved in this?
Shirley Ballas: "I wanted to do something that was out of my comfort zone and to do an over-50s show to share with people that there's still life after 50. I'm also a huge fan of [This Morning presenters] Eamonn and Ruth. I've loved Ruth since she was on Strictly last year and I follow every aspect of her life, from her cooking to her walking the dog to her weight loss!"
TVT: Tell us a bit about the single people you attempt to matchmaker…
SB: "Some of them were like me, they'd retired into the background a little bit and were taking care of family and just being there when the kids rang. I think we all just need a little bit of a push to get to a dancing lesson or a book club or go for an evening out or share time on holidays with different people."
TVT: How did you find the matchmaking side of things?
SB: "I didn't find it easy! I had to monitor them all and talk to them to see who I thought would be suited with who. I kept thinking, 'now pay attention, let's see if we can get this right!'"
TVT: And did you get it right? Did sparks fly?
SB: "Yes, they did, but you have to wait and see which way those sparks fly! They were all extraordinary people. Everybody was really nervous – I was nervous, too – but it shows just how much people can grow in a short space of time."
TVT: It sounds like you had fun filming it…
SB: "It was beyond fun, darling! It hits every emotion that's possibly conceivable. I mean some of the gentlemen took a little push at the beginning of the week to get out of their state where they sit at home and eat hamburgers to get out there and experience different things. It's an extraordinary show."
TVT: Have you ever played matchmaker to any of your friends in real life?
SB: "No, I've never wanted to take that responsibility! But my dance teacher Nina Hunt matchmade me with my first husband [ballroom dancer Sammy Stopford]!"
TVT: You're single at the moment, so what's your own approach to dating?
SB: "Over the last three years I've not been in a great position to want to date. But after doing this and after Strictly it's rekindled my feeling of wanting to try to meet somebody nice. So this show was a spectacular experience for me as well – it was a bit of a learning curve in more ways than one! Many over 50s get in a comfort zone, they don't want to try new things or bother with dating. What I've learned is it's worth bothering!"
TVT: Will it be nice to show a different side to you away from Strictly?
SB: "Yes because Strictly is very serious and actually I have a little bit of a funny side, a humourous side, a batty, oddball side of me and I get to show that a little bit!"
TVT: You're keen to champion the over 50s with this show. So did you notice a change after you turned 50?
SB: "Yeah, I did. Sometimes I look in the mirror and I see these wrinkles and you tend to judge yourself a little bit. But inside your heart and your mind is still the same. What I've learned is that I'm a full book, I come with all sorts of funny stories and tales and ups and downs and I've lived life to the full. You should never judge people by the way they look."
TVT: How has Strictly changed your life?
SB: "Actually I got my first positive comment ever off Eamonn Holmes on the third week of Strictly last year when he came up to me and said, 'I just want you to know you're doing a marvellous job and you look amazing.' I carried that with me for the rest of the show! He was the first man who made me feel good about what I do other than my son. But Strictly has given me a confidence that perhaps I never found before, a personal confidence, not a confidence in my work. It's given me a newfound love for myself. It's showed me that I can do anything!"
TVT: Is there anything else you'd you like to do?
SB: "I'd love to do more presenting but in wellington boots or out on a pig farm or jumping out of a plane. I want to go somewhere where your hair's a mess and you've got no make up on. I don't want people to look at me and think, oh she lives in that glitz and glamour world, because actually I'm at my most comfortable when I'm not!"
Matchmaker Mountain starts from 8th January on This Morning, 10.30am on ITV
Get the latest updates, reviews and unmissable series to watch and more!
Thank you for signing up to Whattowatch. You will receive a verification email shortly.
There was a problem. Please refresh the page and try again.