Simon Day: 'Brian Pern is a love letter to prog rock'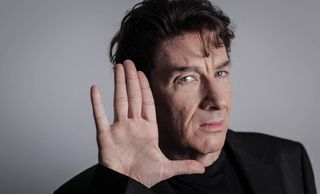 (Image credit: BBC)
Simon Day and Rhys Thomas talk about their rock mockumentary, Brian Pern: A Life In Rock (BBC2, Tuesday, December 9)...
Simon Day, how would you describe your character, Brian Pern?
"It's a very affectionate portrayal of an ageing rocker. Brian is not an idiot; he's just puzzled by life. Despite having all that money, Brian is introverted and not very good at relationships."
How would you sum up the series?
"The series is a love letter to prog rock."
Rhys (writer, producer, director, co-star), you have previously said that Brian is based on former Genesis lead singer Peter Gabriel. Were you ever worried about offending anyone?
"Peter is in on the joke. What Absolutely Fabulous did for the PR guru Lynne Franks, Brian Pern is doing for Peter. He's obviously got a very good sense of humour because a lot of things he has done over the years have been really funny."
So were any of the scenes based on real life events?

"In the second episode, Brian gets locked out of his own stadium gig and can't get back into the arena. That happened to Peter at a gig in Germany. He tried to get back into the stadium by telling the steward, 'Look, I'm Peter Gabriel,' but the steward said, Sorry, sir, you can't come in.'
"Peter was also one of the first artists to do a stage dive into the crowd. But no one knew what he was doing, so they stepped away as he flew off the stage and he landed flat on his face."
The Wit and Wisdom of Brian Pern:
"I invented world music and I was the first person to use Plasticine in a video and really employ a lot of black people to sing in the background."
"Many young bands come to my recording studio and have no idea how to use stationary properly."
"I have always wanted to play live underwater to different types of fish."
"When I was performing I used to stare out into the vortex. I was watching over the under planet."
"Every day a moth dies in Africa as an effect of wi-fi on their wings."
"I had an idea for a rock opera based upon an ancient Chinese instrument called a bong flute. Legend has it that its sound would make tigers cry."
Get the latest updates, reviews and unmissable series to watch and more!
Thank you for signing up to Whattowatch. You will receive a verification email shortly.
There was a problem. Please refresh the page and try again.