Smooth operator: Steven Mackintosh describes being at the centre of ITV's five-star drama The Halcyon (VIDEO)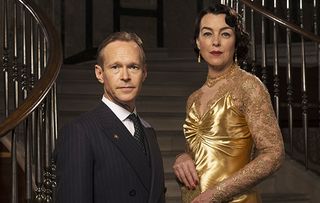 Steven Mackintosh reveals how ITV period drama The Halcyon combines glamour with the dangers of wartime
ITV's lavish new period drama The Halcyon mixes glitz with the perils of wartime according to its star Steven Mackintosh.
The actor, whose recent credits include Lucky Man and From There To Here, plays Richard Garland, the stoic manager of five-star London hotel The Halcyon in the drama, which begins in 1940 and also stars Kara Tointon and Mark Benton.
"Because we are placing it at the beginning of the war you have specific events in time that you can relate to all the way through the story," Steven told What's On TV. "There is contrast between this opulent, grand, glamorous haven and the perilous uncertainty of the war outside, which holds great potential for drama."
Steven came away with a great admiration for the wartime hotels that managed to carry on providing a luxury service and a party atmosphere for their guests even during the Blitz.
"It seems to sum up something about the English spirit that we hear about in the Second World War, that 'keep calm and carry on' attitude that could be Richard Garland's mantra in his job because the show must go on no matter what is happening," said Steven.
"It's business as usual, we must keep the guests happy, the music will play, they must be able to come here and leave all of that behind but, of course, the war does get closer and everyone, no matter how much they try not to, will be affected..."
Richard Garland is at the hub of the hotel as he keeps his all-seeing eye on all the shenanigans going on in The Halcyon while facing up to the establishment's snooty owner Lady Hamilton (Olivia Williams).
"The Halcyon is his domain, he is a smooth operator and very good at his job. He spent a long time in the hotel business working his way through the ranks and so now he is at the pinnacle of his expertise and keeps the wheels of the machine in the hotel running smoothly," said Steven.
"He is the eyes and ears of everything."
The Halcyon begins on ITV on Monday, January 2 at 9pm
Get the latest updates, reviews and unmissable series to watch and more!
Thank you for signing up to Whattowatch. You will receive a verification email shortly.
There was a problem. Please refresh the page and try again.