'Some people assume everything on The Trip is true!' Steve Coogan and Rob Brydon return for a Spanish adventure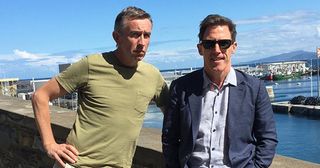 Steve Coogan and Rob Brydon are fine-dining their way through Spain as the show moves to Sky Atlantic for its third series...
After sampling the culinary delights of northern England and taking in the culture of Italy, pals Steve Coogan and Rob Brydon are hitting the road again as cult comedy travelogue The Trip returns for a third series.
This time the two friends are heading to Spain and there will be no shortage of fancy restaurants or Michael Caine impressions as they enjoy the sun, the scenery and each other's sparkling company.
After two successful outings on BBC2, this new six-part series is moving to Sky Atlantic. Yet while the channel may have changed, Steve and Rob assure us that nothing else about the show has... Well, maybe one thing!
"I'm not drinking on this one," said Alan Partridge star Steve. "When Rob and I went to Italy for the second series there were a couple of occasions when we were in restaurants and we got steaming drunk. It was very messy and we couldn't do the scene properly. We found it quite funny, but I'm not sure the director did!"
The chaps tell us more below…
Where do we find the guys at the start of The Trip To Spain? Steve: "In the first series I was a philanderer, in the second I was abstinent, but in this one I'm desperately looking for some sort of permanence and stability. I'm trying to get back with Mischa, my girlfriend from series one, although that's slightly scuppered by the fact that she's with someone else."
https://youtu.be/szHKCzVAWFU
Rob: "I'm back on the straight and narrow after my fling with the girl on the boat in series two. It was quite funny actually, because the day after it was on TV, my wife was taking the boys to school and the teacher came up and put her arm around her shoulder, and said: 'It must be a very difficult time…' I think some people assume everything on the show is true!"
Did you ever imagine you'd be making a third series? Rob: "When our director, Michael Winterbottom, sent me the first episode from the first series, I sat down with my wife and watched it and thought 'Oh my god!' I was worried because it was so slow, but then I began to realise it had it's own pace." Steve: "I think the pace of it is part of its charm. I always see it as Last of the Summer Wine for Guardian readers! Most comedies aren't hits, you try your best to capture people's imagination but you can never really predict what's going to catch. I wasn't convinced it was going to work out while we were filming the first series, but I realised it was different from everything else. Whatever the critics said, I knew they couldn't say 'It's just another…'"
After two successful series on BBC2, what was behind the move to Sky? Steve: "It'll be watched by fewer people, which is annoying. But Sky stepped up to the plate when the BBC wouldn't match what they've done before and put their money where their mouth is. Sky have got a big campaign for it, so it'll have a presence. We've got some billboards with mine and Rob's face on. So I'm pleased about that." Rob: "And I've got Sky..."
Is it true that director Michael Winterbottom had the idea when you were all filming A Cock and Bull Story? Steve: "Yes that's true. It was wet one day and we were stuck in the make-up truck. He told us to improvise some stuff and he would film it and I think it was better than he thought it was going to be. He asked us to do The Trip, but we took some convincing. We thought it might be too self-congratulatory, but he was sure it could work."
https://youtu.be/jPjk2nYiY0Q
There are a lot of rock impersonations in this series… Rob: "We ended up doing a lot of David Bowie and there's actually a Bowie anecdote in the series that is totally true. I'm in my kitchen and Bowie is being interviewed on the radio and he's talking about a film I'm in, but he can't remember my name. I'm standing in my kitchen shouting 'It's me!' Can you imagine, it's David Bowie, he knows you, but he doesn't know you!" Steve: "I'm very jealous of that story, because I'll never know if he had heard of me. So the fact that you were almost mentioned by him fills me with envy."
Have you ever met someone you've impersonated? Steve: "I met Anthony Hopkins and did him to his face. He laughed, although he might have just been being polite. And Michael Caine as well. He was sat behind us with a newspaper, and just said, 'That's not how you do Michael Caine'." Rob: "Tom Jones likes it, Ronnie Corbett used to like it, but I think the impressions we do are flattering and come from genuine fondness for those people. I can't imagine anyone coming up to us and giving us a shove after we did an impression of them on The Trip!"
Do you think The Trip is something you could return to every few years? Steve: "Like a more myopic, funnier, less important version of Seven Up!" Rob: "I think there's a fair chance of that." Steve: "The only thing that puts me off is that it might seem like watching an egg timer of your life. I wouldn't like to think: How many Trips have I got left? I'd rather not think too much about it." Rob: "That's the appeal for me, watching us get older." Steve: "I was fatter in the first one, but we're both over 50 now so we take care of ourselves. Rob even bought a trampette with him. I'd hear him bouncing in his room some nights!"
The Trip to Spain premieres on Sky Atlantic on Thursday, April 6
Feature writer for TV Times, What's On TV, TV & Satellite Week and whattowatch.com
Sean has been writing about all things telly for over 10 years and in that time he's been lucky enough to interview stars like Ian McKellen, Tom Hardy and Kate Winslet. His favourite shows are The Great British Bake-Off, People Just Do Nothing and Succession and in his spare time he enjoys drinking tea, doing crosswords and watching football.
Thank you for signing up to Whattowatch. You will receive a verification email shortly.
There was a problem. Please refresh the page and try again.