Simon Callow is The Rebel with a cause: 'I'm always angry!'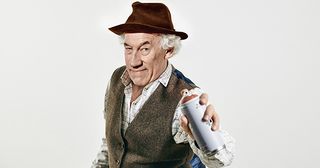 Four Weddings and a Funeral star Simon Callow, plays a rebellious Brighton pensioner in the new Gold sitcom, The Rebel and is more likely to be found smashing up a supermarket, smoking a questionable cigarette or setting fire to a cash machine than enjoying a relaxed game of bowls...
You'd think a 70-year-old spending his retirement years by the seaside would enjoy putting his feet up and taking it easy. But not Henry Palmer, the title character of Gold's new three-part comedy The Rebel (Thursday, July 20), played by Simon Callow, which is based on the cartoon strip of the same name as featured in The Oldie magazine.
Described by his doctor as a 'WGPA' (weapons-grade pain in the arse), Henry is nostalgic for his 1960s heyday as a mod, exasperated by modern life and generally pretty angry – which may or may not be a reaction to the recent death of his wife. "There's 40 years of bottled-up rage inside that man," said Simon Callow, 67, who stars alongside Bill Paterson, Anita Dobson and Anna Crilly in the show.
"He doesn't really care any more. He's angry about so many things – being 70, having spent a life of conformity, modern art, the way the world has gone – everything really.
"Henry is not simply a south coast variation on One Foot in the Grave's curmudgeonly codger Victor Meldrew. Victor dislikes the modern world because it's the modern world. Henry dislikes it because it isn't anarchic enough."
Henry does get to satisfy his craving to relive the exciting times of his youth when he's involved in a clash between mods and rockers – all of pensionable age – on Brighton beach. "It's of the most amazing scenes I've ever been involved in my life. To watch 70-year-old ex-mods smashing deckchairs over the heads of 70-year-old ex-rockers. They went at it hammer and tongs!"
So can Simon empathise or identify with this ageing rebel? "I really wouldn't describe myself as a rebel at all, but I am very clear about what I want and how I think things should be."
"I have in my time adopted various causes. In the 1970s and 1980s, I was very prominent in the gay liberation movement. But I didn't feel I was a rebel – I just thought I was making a perfectly rational case for something. The romantic idea of being a rebel doesn't appeal to me at all."
However Simon admits that, like Henry, he does blow his top from time to time. "I'm always angry! All sorts of stupid things just drive me mad, and they're to do with the way people do things automatically without thinking about it at all.
"For instance, when you sit down in a restaurant and they immediately put your napkin in your lap, long before you've started eating. There's no point! Why am I being tucked up like a child in a highchair? I don't want it!"
Get the What to Watch Newsletter
The latest updates, reviews and unmissable series to watch and more!