Stephen Mangan: 'I'm sad this is our last ever Episodes!'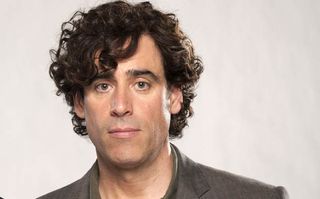 (Image credit: BBC/HatTrick)
Episodes actor Stephen Mangan talks about getting manly on a ranch with Matt LeBlanc and why he's gutted it's the end of an era...
As hit comedy Episodes, set in the back-stabbing, bonkers and ruthless world of Hollywood studios,  returns to BBC2 for its fifth and final series, Stephen Mangan, reprises his role of screen-writer Sean Lincoln, who is married to Beverly, (Tamsin Greig).
As the series gets underway, Sean and Beverly are tearing their hair out when they're forced to work with an odious former writing partner of Sean's who is now a producer. Meanwhile frustrations mount as Matt LeBlanc wants them to work on a new idea for a show he's had.
Here Stephen Mangan tells What's On TV what's in store and why he's heartbroken to say goodbye to Episodes...
What's On TV: What can we look forward to this series?
Stephen Mangan: "I know it's de rigueur to say this is an exciting season and all the rest of it but I would genuinely say this is the best series we've ever done. It's fantastic. I can't wait for it to out there and be seen."
WOTV: What's in store for Sean?
SM: "He and Beverly are still butting their heads against the machine of Hollywood and celebrity that is Matt Le Blanc and all the pain that that brings them! They're really under the cosh because they're locked in a writers' room with him and his demands are insane!"
WOTV: There's an episode in the show where Sean and Beverly are invited to Matt's ranch and end up going shooting. Tell us about that…
SM: "Yes that's another very butch episode from me! The whole experience of doing Episodes has been about chipping away at my manliness. I'm scared of guns like all British people. Americans seem to sleep with one under their pillow but firearms scare me to death."
WOTV: Do you ever get to improvise on set?
SM: "No, even if we change an 'and' to a 'but' there's a conference meeting! We all pitch ideas every now and again, but most often we're told 'no'!"
WOTV: Do you ever have Episodes moments in your own career?
SM: "Yes. Almost every TV executive you talk to starts a conversation with, 'I feel like I'm in an episode of Episodes'. People in the industry love this show because they recognise all the foibles and absurdities of the system."
WOTV: So is the show reflective of the TV industry with executives making decisions for all the wrong reasons?
SM: "Well, not wishing to destroy any careers, but yeah. Making a TV show is an artistic endeavour and it should be the people who have the idea that execute that idea with occasional help, encouragement and advice from the network, but it doesn't tend to work out like that.
I've certainly been involved in more than one project where a really promising script has been pepped to death by a flock of over enthusiastic people who probably should have just gone on holiday for six weeks!"
WOTV: How do you feel about the end of the show?SM: "I'm angry and bitter! You don't come across jobs like this, writing like this and a cast like this very often – I'm just hoping for the spin off series Seany!"
Episodes Season Five begins, Friday, March 30, BBC2
Get the latest updates, reviews and unmissable series to watch and more!
Thank you for signing up to Whattowatch. You will receive a verification email shortly.
There was a problem. Please refresh the page and try again.