Stephen Merchant and Asim Chaudhry reveal the festive chaos in store for their new comedy drama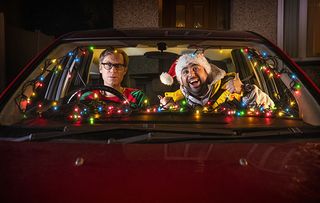 (Image credit: BBC Studios)
The Office star Stephen Merchant and Asim Chaudhry from People Just Do Nothing play neighbours tracking down a must-have Christmas gift in new comedy, Click and Collect...
Not content with writing one of the most beloved Christmas specials of this century, The Office co-creator Stephen Merchant is now starring in a one-off festive farce.
Joining forces with People Just Do Nothing's Asim Chaudhry, the pair play neighbours making a last-minute Christmas Eve dash across the country to track down a must-have gift. Needless to say, the road to Yuletide success never did run smooth…
Merchant and Chaudhry invited TV & Satellite Week to join the road trip on a short leg one evening, driving from Watford to South Mimms service station, and revealed the seasonal chaos in store…
Stephen Merchant and Asim Chaudhry talk to TV & Satellite Week
TV & Satellite Week: Why do this unlikely pair end up stuck in a car together on Christmas Eve?
Stephen Merchant : "My character Andy won't buy his daughter the gift she wants because it's overpriced. Then the most annoying man ever, Dev, tracks down the last one in a toy shop four hours away and reserves it."
Asim Chuadhry : "Dev loves Andy, he's just so cool and funny and he wants to hang around with him. So it's basically like real life."
SM: "I would say that Asim is marginally more annoying."
TVS: Stephen, you appear to be dressed as an elf…?
SM: "The car ends up in the lake and Andy's clothes get wet, so Dev buys him the only thing he can find at a service station which is this elf outfit. We filmed in an actual lake and tried to get our lines out before the water rose too far. I'm the one who seems to suffer in this project, Asim is unscathed. My height is also proving a hindrance because I'm driving a little Ford Focus I barely fit in, it's painful."
TVS: Do you make a good double act?
SM: "We do have a good rapport and the comedy in this is like Laurel and Hardy, I love a bit of slapstick. We've been making each other laugh."
AC: "If you've got a tall, thin man with a fat bloke you can't lose. I'm a big fan of Stephen's, in fact most of my comedy is just nicking his stuff from The Office, which I grew up watching. Imitation is the greatest form of flattery isn't it?"
SM: "Actually it's theft. But in all seriousness, of all the Office rip-offs, People Just Do Nothing is one of my favourites."
TVS: Is it special making something for Christmas?
SM: "I have a young niece and nephew now and most of the things I've done over the years have been quite adult, so it's nice to do a family show. Growing up I used to love planning what we would watch over Christmas, picking things we could all enjoy while my grandmother wouldn't know what was going on and dad would fall asleep. I'm basically hoping my father will sleep during Click & Collect."
TVS: Are you the kind of men who leave shopping till the last minute?
SM: "I try to do everything ahead of time because I find any gift buying stressful and I like to get a bargain. For years I've been walking down Oxford Street trying to get £3 off whatever scarf I'm trying to buy my sister."
AC: "My book has just come out so that's everyone's Christmas present sorted!"
TVS: Could there ever be another Office Christmas special, Stephen?
SM: "I don't see much of Ricky now because he lives in London and I'm in LA. I'd love for us to work together again but I don't think we could get that cast back together now."
AC: "If you want to recast David Brent as an Asian guy, I'm up for it!"
Click and Collect is on Christmas Eve, BBC1, 9pm
Get the latest updates, reviews and unmissable series to watch and more!
Thank you for signing up to Whattowatch. You will receive a verification email shortly.
There was a problem. Please refresh the page and try again.