Suranne Jones: 'My baby stole my limelight on the set of Doctor Foster'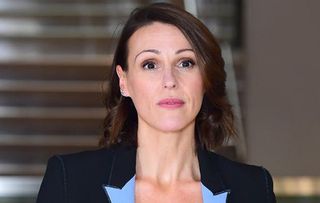 Suranne Jones on the trials of taking her baby son on the set of Doctor Foster
Suranne Jones admits she has found it tough filming the second series of Doctor Foster after becoming a mum.
The actress, who plays adultery victim GP Gemma Foster in the hit drama, gave birth in March 2016 to her first child, a baby boy, with her husband Laurence Akers and was back filming the second series of the tense thriller six months later.
"I was quite hormonal still and didn't know about childcare. I wanted him to go into a nursery and then I would get home after work and it would be great," Suranne told What's On TV. "But I didn't know that when you put babies in nursery they get ill all the time and then they don't go to nursery so we ended up with nannies on set."
However, having the little boy nearby during filming resulted in a juggling act for the star.
"You just get on with it, but there is a brilliant picture of me carrying him down a corridor when he is full of a cold and I am trying to be Gemma and pretend that I haven't got a baby on my hip!" she laughed. "I was trying to be serious and do my job, but all I could hear was 'Awww' from all the crew. He was taking all my limelight away!"
The youngster, whose name Suranne has not publicly announced, also played a role in deciding where she would put the Bafta award that she won for the first series.
"I had it underneath the fireplace but then my baby got interested in it so then I put it on top of the fireplace and then because it is so heavy, I went into mother panic that he would pull it down so now it is upstairs in the office," she said. "I would like to put it in the loo though because that is the thing that people do!"
http://www.youtube.com/watch?v=FMNlKJ020KM
Doctor Foster premieres on BBC1 on Tuesday, September 5 at 9pm
Get the latest updates, reviews and unmissable series to watch and more!
Thank you for signing up to Whattowatch. You will receive a verification email shortly.
There was a problem. Please refresh the page and try again.