The A Word's Lee Ingleby would love to revisit Joe's world when he's two years older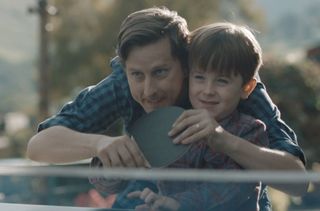 The A Word star Lee Ingleby tells TV Times about the positive response to the hit BBC1 drama (finale screens Tuesday, April 26) and why he'd like a second series.
What sort of response have you had to the drama so far?
"I've had a lot of people come up to me and mention the part in the first episode where Joe doesn't get invited to a birthday party. Many people have said they've had that experience because other parents didn't want to invite 'an oddball'. But of course they're not odd, they're just different, and it's certainly opened my eyes. I'd love to get involved with autistic charities and lend a hand, because I do think we need to shine some light on the subject."
Would you like a second series? Are there are more stories to tell?
"It would be good to come back when Joe is two years older, when his mum and dad have got used to the diagnosis and he's finding his path in the world. That would be really interesting."
Child actor Max Vento, who isn't on the spectrum himself, plays young Joe. How did you go about helping Max tackle what must be a very challenging role?
"A set can be quite a daunting place with lots of people milling about, so we thought it was important that we got to know each other, and during rehearsals we'd go bowling together or go out and get some food.
"Sometimes Max couldn't quite get his head around why we had to keep repeating ourselves when we were filming scenes, but he's a quick learner and he got there in the end."
You play Joe's dad, Paul, who reacts badly to his wife Alison's attempts to 'fix' their son. We've seen cracks starting to appear in their marriage as they decide whether or not to try for another baby, havent we?
"It's the moment they need each other most, but they can't quite work it out. On the surface Paul has a very optimistic outlook on life, but actually he can't quite deal with what's happening, either as a father or a husband.
"He likes to paper over the cracks, but the diagnosis is a strain in their relationship. I can only imagine how difficult it must be for parents, especially if you have kids on the more extreme end of the spectrum than Joe."
It must be nice to be part of a hit drama that doesn't involve a murder….
"There are a lot of police shows at the moment and they're all exciting, fast-paced and cool, but to read a script about matters of the heart is a gift for an actor. We're just opening the doors on a family, and nobody gets killed, it's just about people and conversations. I like that there's humour in it, and it's not dark."
And finally, what's happening with your other big hit show Inspector George Gently?
"I'd love there to be more episodes of Inspector George Gently. I always enjoy doing it and I love the character that I play, John Bacchus, because he's a product of his time. But whether or not there will be another series I really don't know..."
For more information on Autism visit www.autism.org.uk
Get the What to Watch Newsletter
The latest updates, reviews and unmissable series to watch and more!