The celebrities who have endorsed Ed Miliband and Labour to win the General Election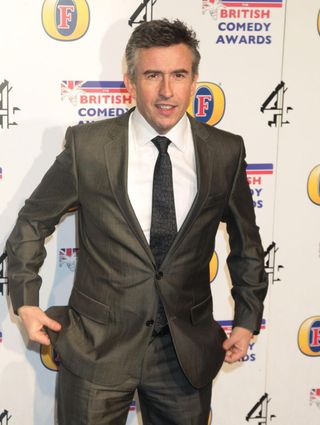 As the final day of campaigning gets under way, the parties have been pulling out all the stops to get those all-important votes in the bag.
One of Labour's key tactics has been pushing their policies through the voices of stars we know and love. We take a look at the celebrities who've endorsed Ed Miliband along the way.
Martin Freeman
http://www.youtube.com/watch?v=JbHNVtsAD2M&feature=oembed
Labour kicked off the party political broadcasts back in March with a simplistic video featuring everyone's favourite Hobbit. He explains that we have a choice between 'two completely different sets of values' and that voting Labour is the only one for him.
Jo Brand
http://www.youtube.com/watch?v=UpDN-XAVDOM&feature=oembed
Funnywoman Jo is next to stand against a plain white background and pledge why she's backing the party. She describes our NHS nurses as 'hardworking, committed, amazing human beings' and says a vote for Labour would stop any more extreme cuts being made.
Delia Smith
(Chris Radburn/PA)
The well-loved TV chef is one of the latest celebs to show her support. She shared with voters the emotional story of her uncle dying before he was two years old because her family couldn't afford the medical bills. In her opinion, 'the party that campaigned (for the NHS) and created it will be the best one to nurture and sustain it.'
Steve Coogan
http://www.youtube.com/watch?v=nhw5RHvPalk&feature=oembed
Sitting in a cafe then strolling by the sea, the actor and comedian reminisces about his childhood and tells us his parents brought him up to 'respect hard work, honesty and decency'.He wraps up his plea by making us imagine how we'll feel waking up on Friday morning to another five years of the Tories.
David Tennant
(Ian West/PA)
At the end of all the official party broadcast vids we hear the smooth voice of Doctor Who and Broadchurch actor David Tennant. He confirms what the other fellas have just said and reminds viewers what they should do on May 7.
Russell Brand
(Russell Brand/YouTube/PA Images)
It seems Ed's decision to pay Russell a late night visit last week paid off. The famous face of the anti-vote has done an unexpected U-turn and is now urging people to vote for 'this bloke (who) will listen to us'.
Ronnie O'Sullivan
(Stefan Rousseau/PA)
Ed broke off from the campaign trail last week to have a few games with snooker champ Ronnie. He admitted politics has never really been his thing but said chatting to Miliband made him think 'he's someone I can believe in'.
Lydia Bright
(Beaumont Communications/PA)
The Towie star recently interviewed Ed Miliband about how to make sure young people's voices are heard in the election. She came away from the meeting gushing over how Ed would 'make a great Prime Minister' and how his snappy dress sense means she'd 'definitely snog or marry' the leader in a game of Snog, Marry or Avoid.
Jason Isaacs
(Stefan Rousseau/PA)
The Harry Potter actor was the host of a Labour rally in London last Friday. He explained Labour has his support because it is the only party that 'wants to speak to the best in us'.
June Sarpong & Michelle Collins
(Stefan Rousseau/PA)
The TV presenter and the former EastEnders actress stood together on the podium at the rally. June explained how she came to Britain with her family 14 years ago for a better life, but said that's not the same for young people any more under the current government. Michelle reminded supporters that every vote does count and urged them to 'charm your neighbours, knock on doors, make a difference'.
Matt Horne
(Stefan Rousseau/PA)
The Gavin and Stacey actor was another star to speak out at last Friday's rally. He said the reason he's backing Ed is because 'I want to be proud of my Prime Minister'.
Paul O'Grady
(Stefan Rousseau/PA)
Also speaking at the rally, the comedy great declared that 'we need to get Ed in' to Number 10 and vowed he'd leave the country if David Cameron gets there instead. He admitted the fact he doesn't speak Italian or like pasta may be an issue but says it would still be better than living under the government we have now.
Katie Hopkins
(Ian West/PA)
Ok, not quite. The notorious blabbermouth inadvertently gave a boost to the Labour Party when she tweeted that she'd leave the country if Ed was PM. For some, that proved to be all the motivation they need.
Katie hopkins said she'll leave the UK if ed milliband is elected. #youknowwhattodo
— Aidan T Service (@AidanTService) May 3, 2015
Reminder: Katie Hopkins will leave the UK if Labour win. VOTE RED OKAY
— /katie/kitty/squish/ (@squishybytes) May 4, 2015
Get the latest updates, reviews and unmissable series to watch and more!
Thank you for signing up to Whattowatch. You will receive a verification email shortly.
There was a problem. Please refresh the page and try again.