The Durrells star Milo Parker: 'I was 12 when I started as Gerry... it's very sad to say goodbye'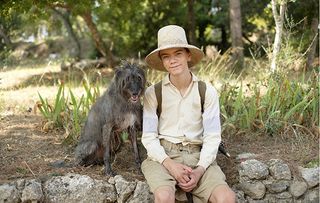 Milo Parker on befriending his new animal co-stars in The Durrells, growing up on set in Corfu, and his plans for Easter...
Starring in The Durrells has been a magical experience for all the cast, but it has perhaps made the biggest impact on its youngest star, Milo Parker.
Milo, 16, has spent his teenage years balancing life as a schoolboy with trips to Corfu for his role in the hit ITV period drama – accompanied by his dad and a pile of homework!
TV Times has interviewed Milo throughout his time on the beautiful Greek island where the show is shot, and we've watched him grow up with his character, Gerry.
Always polite and professional, Milo has clearly had the time of his life, and he feels the same pang of sadness as his co-stars about the show soon coming to an end.
Here, The Durrells star Milo Parker takes a break from filming to reveal how Gerry makes two new animal friends…
Gerry meets some lemurs this week – how does that happen?
Milo Parker: "The family go on a picnic and it goes quite wrong. They visit a tavern, which turns out to be run by Captain Creech [James Cosmo], who has just found these lemurs somewhere. He tries to sell them to Gerry for a ridiculous amount of money. Of course, Gerry just falls in love with them, and wants to take them home. The lemurs are fantastic, they're really lovely, but sadly they don't like being stroked. I think they see it as an attack."
What else can we expect from Gerry this series?
MP: "We see a new side to him, which I don't think we've explored before. His relationship with his female friend Galini [Olivia Lebedeva-Alexopoulou] develops, and then she gets a boyfriend with a motorbike, which makes Gerry very jealous. And he continues to extend his menagerie, of course…"
Have you become an animal whisperer playing this role?
MP: "No, it's the animal handlers who make me look really good! They are always making a fuss of the animals and keeping them happy, which makes my job easier. I've had my fair share of incidents with the animals – there was one scene when I was sprinkling soil, but the pelican thought it was food and then kept on snapping at my shoulder. I had to keep going, but it was pretty terrifying!"
What has it been like growing up on The Durrells?
MP: "I was 12 when we started, and I've definitely matured a lot since then. My dad comes with me, and he has given me more independence on set over the years. I also do a lot more homework now! But there are worse things than sitting on a sunlounger in front of a blue sea doing physics, and it's crucial to have a back-up plan. I love doing this job, but who knows if I'll be able to transition into being an adult actor?"
How does it feel knowing this is the last series?
MP: "Really sad. It hit me when I landed at Corfu's airport for the last time –I love everyone on the show, and we all have the same sense of humour. And when we're in Corfu, it's quite moving seeing how much the show means to people – boats always sail up to the villa when we're filming there. It's been fantastic, but it's such a great place to end it. The Durrell family spent four years in Corfu and we've done four series, exploring some really nice areas of the characters and the story. The final episode is one of the best ever."
Will you take away any mementos from the set?
MP: "I've been promised Gerry's satchel. I've already got some mementos from last year – I had a lovely little tin with flamingos on it and his study books; they're all over my bedroom at home on proud display."
This week's episode is one of the highlights of ITV's Easter Sunday schedule. How will you be spending the day?
MP: "Normally, my grandparents come round for dinner. It's a really happy time for my family! I enjoy the chocolate – obviously! – but also spending time with loved ones. And we get two weeks off school, which is nice! This year, though, I'll mostly have my head in the textbooks revising for my GCSEs, which isn't as much fun!"
The Durrells is on ITV on Easter Sunday at 8pm.
Get the latest updates, reviews and unmissable series to watch and more!
Thank you for signing up to Whattowatch. You will receive a verification email shortly.
There was a problem. Please refresh the page and try again.