The Exorcist: The Complete Anthology | Let the battle begin on Blu-ray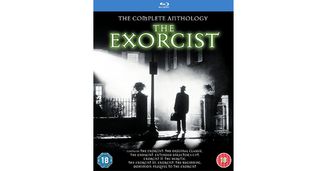 In 1973, director William Friedkin changed the the horror genre forever with his groundbreaking supernatural blockbuster, The Exorcist, based on William Peter Blatty's best-selling novel, in which Jason Miller and Max Von Sydow's priests, Father Karras and Father Merrin, battle to save the soul of Linda Blair's possessed youngster, Regan.
But the demonic entity continued to wage war with the powers of light in John Boorman's famously flawed 1977 sequel, Exorcist II: The Heretic, starring Richard Burton. Then, in 1990, author William Peter Blatty took on directing duties for the underrated Exorcist III: The Legion, in which George C Scott's troubled detective encounters demonic forces at work in a mental institution. Two so-so prequels followed in 2004 (directed by Renny Harlin) and 2005 (by Paul Schrader), using the same sets and cast, and both starred Stellan Skarsgard as the young father Merrin, who first encounters the ancient evil in 1940s Kenya.
Although it misses out including the Director's Cut, this anthology brings the five films together on Blu-ray in one six-disc set, including a host of extras, the alternate versions of the original classic, commentaries, storyboards and deleted scenes. While the first film and the two prequels have excellent HD transfers, The Heretic and The Legion do not appear to have been given the same attention.
Let the battle between light and dark begin again on Blu-ray…
Get the latest updates, reviews and unmissable series to watch and more!
Thank you for signing up to Whattowatch. You will receive a verification email shortly.
There was a problem. Please refresh the page and try again.