The Foxes get the boot from Bear Grylls: Mission Survive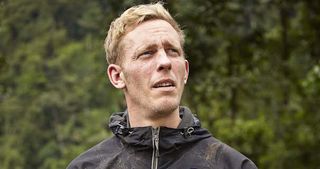 (Image credit: betty / Mark Johnson)
In the fourth episode of Bear Grylls: Mission Survive, the survival expert decided it was time to send not one but TWO of the six celebrities back to civilization and it just so happened that the unlucky pair were famous cousins Laurence and Emilia Fox.
In the programme, things began to take their toll on all the celebrities as they continued their trek across South America.
In the episode, the contestants were sent into caves to hunt for tarantulas, with Bear teaching the celebs how to burn the hairs off the arachnid's legs so that they would be safe to eat. But that was just for starters because the group then had to gut and prepare a fresh pig carcass for dinner.
Meanwhile, it looked like the game was up for Laurence when he was struck with trench foot and had to be checked out by the Mission Survive medic. But trooper that he is, Laurence carried on.
That was quite tame compared to their next challenge the following morning – crossing a crocodile infested river. It was their last chance to impress Bear before he had to eliminate another celebrity. But there were unprepared for a shock twist which saw Bear send Laurence Fox and Emilia Fox packing.
He said: "The tougher it gets the more positive you have to give, that's how we get out of difficult situations."
"This is Mission Survive but Lawrence and Emilia, I'm going to send you both home because I don't believe you would survive"
Mission Survive continues next Friday on ITV at 9.00pm.
Get the latest updates, reviews and unmissable series to watch and more!
Thank you for signing up to Whattowatch. You will receive a verification email shortly.
There was a problem. Please refresh the page and try again.