The Karen Carpenter Story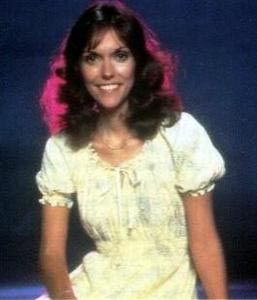 Couch Potato Pickings
On Five this afternoon at 3pm
http://www.youtube.com/watch?v=F_URrerCU10&fs=1
I think this film should come with a health warning. It's the story of Karen Carpenter who rose to stardom with her brother Richard as singing duo The Carpenters, but whose battle with anorexia brought on an early death at the age of 32.
You see, there are loads of impressionable youngsters out there and if there's just one experiencing immense parental pressure to succeed, or pressure to be someone they're not, then this film could quite easy tip them over the edge.
We'll probably never know exactly what make Karen so unhappy that she turned to anorexia to deal with it, but it's clear she had a low self-esteem. In this film today, we see her family fussing round her as her illness takes hold. Any self-critical kid that's crying out for some family understanding will see this depiction and think hey, I can do that, and next thing you know they're living on lettuce leaves.
I know, of course, that this movie is based on a true story and there's not much anyone can do to change that. However, it's very much an outsider's view of this singer's life. I'm sure Karen's story was totally different from her perspective – a living hell basically.
Maybe one day someone will tell this side of the tale. To some extent filmmaker Todd Haynes (Velvet Goldmine, Far From Heaven) did this with his short film from 1987 Superstar: The Karen Carpenter Story. This tells the real story from Karen's perspective using Barbie dolls. It was, however, withdrawn from circulation after Richard Carpenter filed a lawsuit.
You can find bootleg versions of Haynes' film on You Tube, but I'm lucky enough to own a copy on video, having worked with Todd Haynes in the 1990s.
Anyway, it probably won't surprise you that I won't be watching this film today, but I'm not going to miss this golden opportunity to list my Top 10 Carpenters songs:
7. All You Get From Love is a Love Song
2. Happy
Get the latest updates, reviews and unmissable series to watch and more!
Thank you for signing up to Whattowatch. You will receive a verification email shortly.
There was a problem. Please refresh the page and try again.