The Man with the Golden Arm (1955) | Blu-ray release – Frank Sinatra's career best turn in Otto Preminger's ground-breaking drug drama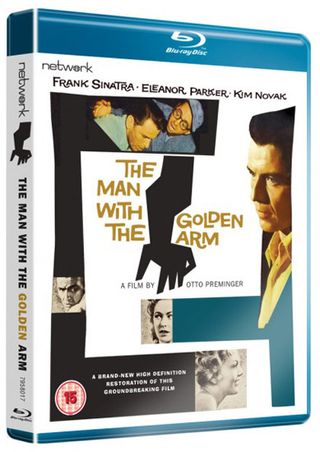 War vet and card shark Frankie Machine (Frank Sinatra) returns to Chicago after six months in a Federal narcotics hospital after kicking his heroin habit. Frankie wants to stay clean and try his hand at becoming jazz drummer, but his embittered and manipulative wheelchair bound wife Zosh (Eleanor Parker) wants things to be as they were before. Frankie soon finds himself drawn back to the dark side, but former flame Molly (Kim Novak) may just be his last hope yet…
Frank Sinatra turns in a supreme performance (and got an Oscar nod to boot) in this gripping, ground-breaking film noir, directed by Otto Preminger, who was no stranger when it came to tackling taboo issues (illicit sex in 1953's The Moon is Blue, rape in 1959's Anatomy of a Murder, homosexuality in 1962's Advise and Consent).
Adding to the film's edgy atmosphere is Elmer Bernstein's memorable theme tune and another great title sequence by Saul Bass (who also did the iconic theatrical poster). A savage indictment of drug trafficking, the film became a critical and commercial success on it release in 1955, while the cold turkey scenes still hit a raw nerve (and that's all down to Sinatra's gruelling, realistic performance).
If you think you've heard Arnold Stang, who play con artist Sparrow, somewhere before – that's because he voiced Top Cat in the classic 1960s cartoon show.
The Man With The Golden Arm is presented in a new transfer, in its as-exhibited theatrical aspect ratio on Blu-ray (opens in new tab) and DVD (opens in new tab) from Network Distributing in the UK. The only extras are an image gallery.
Get the latest updates, reviews and unmissable series to watch and more!
Thank you for signing up to Whattowatch. You will receive a verification email shortly.
There was a problem. Please refresh the page and try again.