'This second series will be darker and more dramatic,' says star of Indian Summers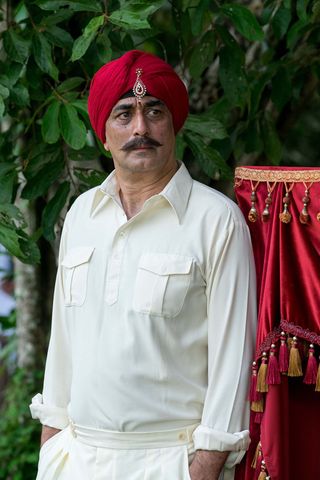 (Image credit: Matt Brandon)
Art Malik (opens in new tab) joins Julie Walters (opens in new tab) and the rest of the cast as Indian Summers returns to C4 tonight, promising even more sex, scandal and scheming.
Art plays the Maharajah of Amritpur in the period drama about the British colonial class in the last days of the Raj, a powerful man and a tricky character to deal with.
Art Malik plays the powerful, slippery Maharajah
And the new series will feature revelations from the off as the characters return to Simla, their summer retreat amid the foothills of the Himalayas, in 1935 – three years on from the hit first series.
Star Jemima West (opens in new tab) told the Mirror: "A lot of what happens in the new series will be even darker, more dramatic and more sensuous than in the first."
Jemima – who plays Alice, sister of the Viceroy's power-hungry private secretary Ralph Whelan (Henry Lloyd-Hughes (opens in new tab)) – goes on: "Everything is ratcheted up this time, whether it's the politics or the relationships between the characters. It's going to be a rollercoaster ride."
Alice was last seen mysteriously arriving from England with her baby, claiming to be a widow and starting a forbidden mixed-race affair with her brother's clerk Aafrin Dalal.
But as the first new episode opens, the husband she said was dead turns out to be alive and living with her at Chotipool, her brother's wisteria-clad colonial pile.
Alice, with husband Charlie, comes face to face with former lover Aafrin
Blake Ritson (opens in new tab), who plays her husband Charlie Havistock, says: "Charlie is jaunty, dapper and on the surface appears to adore his wife.
"But really he is controlling and determined to reclaim his honour and his son and to possess his wife in every way possible. He is probably losing his marbles and he scares even me.
"One of the strengths of this show is that it's completely unflinching about everything. It really gets into the darkest recesses of the way that people behave – and if it didn't it wouldn't be half as good as it is."
Sparks should fly as Alice and former lover Aafrin, played by Nikesh Patel (opens in new tab), are reintroduced after three years apart – and Aafrin is now enjoying a passionate relationship with his Indian activist girlfriend Kaira.
Aafrin with new love Kaira
But it's not just Aafrin's love life that is heating up.
It turns out he is a nationalist spy and he struggles to keep his secret when wounded comrade Naresh Banerjee, played by Arjun Mathur (opens in new tab), is convin ced someone has betrayed him and puts a knife to Aafrin's throat.
The series is set amid increasing political unrest as India inches to independence and the British ruling elite cling to power.
Members of the English community find themselves plotting and stabbing each other in the back, as well as falling into each other's beds.
Producer Dan Winch says: "We have worked hard on taking greater risks in every way for series two.
"We've stayed mindful we're reaching out to an audience in the UK, the US and hopefully others. Some American reviews referred to how racy the show can be. We have strived to push the boundaries – particularly on intimacy."
Besides Alice's increasingly complex love life, her brother Ralph is now married to Madeleine, played by Olivia Grant (opens in new tab) – the American heiress he bedded in the first series and who turned out to be penniless.
Ambitious Ralph and Madeleine
They are parents to a two-year-old daughter, Vivienne – but parenthood has failed to tame their ambitions for power.
"When it appears Ralph's boss may be on the way out, Madeleine will do all she can to shoehorn him into the main man's role," says Olivia, who plays her.
"As often in power-driven relationships, the energy spills into the bedroom and there's a lot of juicy stuff between us.
"It also gets very dark. Sexually the pair push the boundaries and, without wanting to spoil what happens, near the end of the series there's a lot of fall-out from this."
In series one, many viewers suspected Alice was unnaturally close to her brother and sexual tensions remain high. Olivia says: "The sexual dynamic between all the characters at Chotipool is really strange."
According to her, it's not just Alice who is a third person in Madeleine's marital bed but also club owner Cynthia Coffin, played by Julie Walters.
Rich widow Cynthia is still scheming


Cynthia is ambitious for her protegé Ralph but her campaign is threatened by new character Lord Hawthorne, played by James Fleet (opens in new tab). "He turns up and she doesn't like him," says Julie. "She thinks, 'I'll sort him out' – and she does.
"Poor James had only just arrived on set when we had to film a pretty rude scene. Just as well he's such a good actor. We both found it hilarious."
Fans of series one loved to hate the rich widow but Julie says they may learn she is not quite such a villain. "Cynthia's not so much a bitch but rather a survivor," she says.
Indian Summers (opens in new tab) returns to Channel 4 on Sunday, March 13, 9.00pm.
http://www.youtube.com/watch?v=BDIw6tgtFRE
Thank you for signing up to Whattowatch. You will receive a verification email shortly.
There was a problem. Please refresh the page and try again.