Thought for the Day from The Seven Year Itch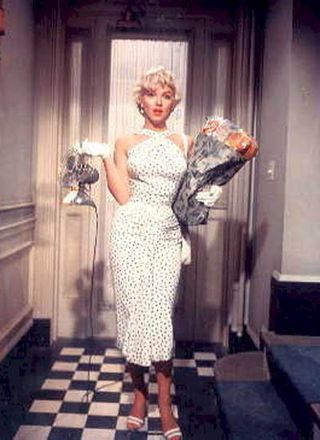 "I'm just not made for the heat. This is my first summer in New York and it's practically killing me. You know what I tried yesterday? I tried to sleep in the bathtub. Just lying there up to my neck in cold water... But there was something wrong with the faucet. It kept dripping. It was keeping me awake, so you know what I did? I pushed my big toe up the faucet... The only thing was, my toe got stuck and I couldn't get it back out again... No, but thank goodness there was a phone in the bathroom, so I was able to call the plumber... He was very nice, even though it was Sunday, I explained the situation to him and he rushed right over... But it was sort of embarrassing... Honestly, I almost died. There I was with a perfectly strange plumber and no polish on my toenails."
The Seven Year Itch (1955)
Today is the 50th anniversary of Marilyn Monroe's death. If you're a big fan, you should head to LA...
Marilyn was no dumb blonde says Pulitzer-winning journalist Maureen Dowd.
Share this thought for the day on our Movie Talk Facebook page or Movie Talk Twitter stream.
The Seven Year Itch can be found on Forever Marilyn, a new Blu-ray box set from 20th Century Fox released to commemorate the 50th annniversy of Monroe's death. The set contains four of the icon's best-loved comedies: Some Like It Hot, How to Marry a Millionaire, Gentlemen Prefer Blondes and The Seven Year Itch.
Get the latest updates, reviews and unmissable series to watch and more!
Thank you for signing up to Whattowatch. You will receive a verification email shortly.
There was a problem. Please refresh the page and try again.