Tim Roth plays a 'blackout drunk who's trying to stay sober' in Tin Star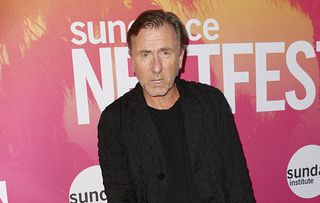 (Image credit: Shutterstock/Rex)
Tim Roth wasn't looking for a new TV series, but he explains why he couldn't turn down Sky Atlantic's Tin Star
Tin Star, a new revenge-fuelled thriller, is set to screen on Sky Atlantic this week. The 10-part series sees a fictional, idyllic settlement in Canada rocked by bloody violence...
TV Times (opens in new tab) spoke to Bafta-winning Tim, 56, star of hit films including Pulp Fiction, Reservoir Dogs and Planet of the Apes, to find out more.
What appealed to you about Tin Star? "I've done television before, including US series Lie to Me, and that was hard work but fun, but I really wasn't looking for another TV show. However, I thought Tin Star had an insanity about it that would be interesting. Plus, there's an anarchy about the character of Jim Worth that I thought would be fun to play."
Tell us more about Jim… "He's a police chief and a family man, but he's also a blackout drunk who's trying to stay sober. I would say there's a Jekyll and Hyde vibe to his situation that becomes unleashed as the series progresses. We hope to take viewers to a very dark place…"
What are the two different sides to him? "There's the good guy, who is trying to be a regular bloke, and then there is the other guy when he falls off the wagon. I won't reveal too much, but there is a much wilder version of the character who appears that you won't be expecting."
Why have the Worths moved to Canada? "Many real-life British police officers take jobs in far-flung places just for a quiet life, and there's an open-door policy for them to go work out there. We met quite a few of them, too, and they were armed to the teeth! So that's the position Jim is in – he is a recovering alcoholic and he goes there for the quiet life with his family."
You're a tight-knit family on-screen, how was it working with Genevieve O'Reilly and Abigail Lawrie? "They're a great mob! Imagine how difficult it would be if you didn't get on and had to force it. I think the family is wild and rather wonderful, and I turned into a real-life father with Abigail. I didn't approve of her costumes and would shout, 'Put some pants on!', which ended up in the show because we improvised a lot."
The series is both tragic and terrifying, but also strangely funny… "Yes, the humour was layered into the scripts, but we improvised the family scenes in episode one and it kind of set the tone for how we proceeded. A lot of it is our sense of humour and hopefully you will enjoy it."
How was it working in the Rockies? "We shot in locations around Calgary, Alberta, and we were there for just over six months. By December, though, even the locals found it tough to go outside because it was so cold."
Have you been there before? "Yes, and having worked in Calgary before I wasn't particularly keen to go back, not because I have anything against Canada, but it's proper Trump Land round there, and we were there during his campaign as well as Brexit. It's interesting now, though, to see the oil corporations flourishing and the invasion of the local culture."
Did you come across any grizzlies? "We had a bear meeting the first day on set and they told us various theories on how to deal with them, which included using sprays or sound, standing still or running away depending on the bear. It was confusing!"
Sounds terrifying! "Yeah, it's very real! But what they don't tell you about is the mountain lion situation. Tourists are often killed because the cats hide up in trees, then they drop on you and eat you! They're coming out of the air so crew members had to be constantly on the lookout."
All episodes of Tin Star are available exclusively on Sky Atlantic and NOW TV from Thurday, September 7
Senior Writer for TV Times, TV & Satellite Week, What's On TV and whattowatch.com
Rebecca has more than 20 years' experience in journalism and is now writing about all things telly-related for TV Times, TV&Satellite Week, What's On TV and whattowatch.com (opens in new tab).
She's interviewed all sorts of big-name stars, including Al Pacino, Ewan McGregor, Tom Hardy, Winona Ryder, Benedict Cumberbatch and more. She's also been known to step in front of the camera, dressing up as a 1920s flapper to star in ITV's Mr Selfridge and co-hosting ITV News at Ten with Mark Austin – all in the line of duty!
When she's not quizzing actors, directors and producers, you'll find her bingeing US dramas and anything horror/sci-fi/zombie-themed. But her greatest love will always be Game of Thrones… just don't mention the ending!
Get the latest updates, reviews and unmissable series to watch and more!
Thank you for signing up to Whattowatch. You will receive a verification email shortly.
There was a problem. Please refresh the page and try again.