Top Gear's former boss: BBC 'considered axing Richard Hammond'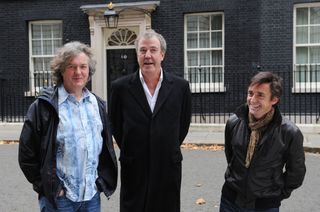 (Image credit: PA Wire/Press Association Images)
Former Top Gear executive producer Andy Wilman has had a dig at what he called the BBC's 'Meddling Department' and told how his bosses considered axing Richard Hammond.
Wilman quit the long-running TV series in the wake of Jeremy Clarkson's departure and the BBC plans to relaunch Top Gear with new presenters.
But the TV executive, who alongside Clarkson, Hammond and James May, are believed to be negotiating with a streaming service like Netflix or Amazon, said of the show: "I don't think we'll see the like of it ever again."
Writing about the success of the show in the latest edition of Top Gear magazine, Wilman said: "The show that finally ground to a halt just over a month ago was a colossus."
Jeremy Clarkson, James May and Richard Hammond could be heading for another channel (Stefan Rousseau/PA)
He added: "In our heads we were making a car show for car dweebs, but as series four went to five went to six, we realised that the actual growing was sprouting in directions we hadn't reckoned on.
"Because we never planned it, I don't think we'll see the like of it ever again."
He told how BBC management were unsure whether they wanted to keep Hammond after he made his first series in the Top Gear reboot.
"For a while, for some reason I cannot fathom, the BBC management had a wobble about Richard and in their usual, classic HR style said to him, 'We may not want you back for the second series, but, anyway, have a good Christmas'."
Richard Hammond (Todd Williamson/Invision)
Wilman complained that the show received many visits from the 'BBC Meddling Department'.
He said that on one occasion they 'told us that market research showed our show was attracting young, lifestyle, trendy viewers to BBC Two, so perhaps we should think about getting a young, lifestyle, trendy presenter'.
"Ever keen to assist, we searched high and low and eventually came up with just the man: James May."
He added: "At one point, the Meddling Department arrived bearing more news from the outside world. Nearly half of our audience, they now declared, was female.
"Before they had a chance to follow that up with the inevitable suggestion to get a woman presenter, we shooed them out and carried on."
Former Top Gear presenters Richard Hammond, James May and Jeremy Clarkson (Gareth Fuller/PA)
The show constantly hit the headlines for controversy and Wilman said: "We made a Wall of Complaints as a home for the best and most vitriolic ones."
He said he would never forget Hammond's accident, in which he ended up in a coma when the tyre of a jet car blew at 288mph.
He added: "What I never had to worry about were the words coming out of the presenters' mouths. Any producer would be blessed to have those three. They would set off on a road trip, no script, just a few bullet points in their heads, and riff away like mates… so much of their drivelly banter was gold."
His comments came after Clarkson was set for a return to the BBC, being interviewed on the Radio 2 breakfast show with Chris Evans.
The 55-year-old is expected to speak about his future in the studio tomorrow morning, in his first interview since being axed as Top Gear presenter following his attack on producer Oisin Tymon.
Get the latest updates, reviews and unmissable series to watch and more!
Thank you for signing up to Whattowatch. You will receive a verification email shortly.
There was a problem. Please refresh the page and try again.