Trust star Donald Sutherland: J Paul Getty had an inability to allow himself to love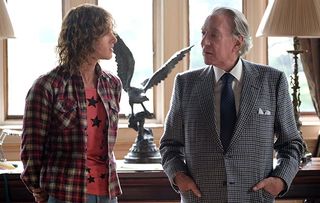 (Image credit: TRUST © FX Productions LLC. A)
Donald Sutherland on his role as billionaire J Paul Getty in Trust, which will be shown on BBC2. The first episode, which is on tonight at 9pm, is directed by Danny Boyle.
The fascinating story of one of the wealthiest and most dysfunctional families in the world, the Gettys, is brought to life in ten-part US drama Trust, which makes its UK premiere on BBC2 next week, and stars Hollywood notables Donald Sutherland, Hilary Swank and Brendan Fraser.
In the 1970s, the clan's patriarch, American oil magnate J Paul Getty, was worth $2 billion. He was also notoriously mean, even installing a pay phone at his Surrey manor, Sutton Place, for guests to use.
Getty, as played by Donald, is a cruel and arrogant man, who treats everyone with disdain. His five sons, or "simpering idle wasters" as he calls them, are a profound disappointment, throwing their lives away on drugs and leisure.
http://www.youtube.com/watch?v=OM9h-llN4TY
The first episode opens with the death of son George, who stabs himself with a barbecue fork while high on drugs in 1973. The arrival of Getty's 16-year-old grandson, John Paul Getty III (Silent Witness and Clique star Harris Dickinson), for his uncle's funeral offers his grandfather hope for the future. But a terrible ordeal lies ahead when the youngster is kidnapped…
Donald Sutherland, 83, – star of The Dirty Dozen, Cold Mountain and The Hunger Games among many others – spoke to TV Times about the family saga…
Getty remains an iconic figure, how was it to play him?
Donald Sutherland: "He is a wonderful character to play because he's so complex. He has an inability to allow himself to love, which is so sad. He would do anything to be able to love, but something always comes up that prevents it in some way."
[Check out a preview of the first episode here]
What impressed you about him?
DS: "He spoke six languages and could do numbers off the top of his head. But he was burdened by the fact that his sister had died when she was two years old. He was born afterwards, and he could never make up to his mother for the loss of that child."
Why are people still so interested in the Gettys?
DS: "People are really interested in power and money. Why do people stop when they see an accident on the side of the road? The Getty family was an accident on the side of the road…"
How familiar were you with the Getty story before this role?
DS: "I was familiar with it because I worked in Italy in the 1970s when kidnapping was rife. I had to wear a bag over my head so that people couldn't recognise who was in the car. I didn't go to Sutton Place, but a lot of my friends did."
We see Getty refusing to hand over the ransom in exchange for his grandson. What is your view?
DS: "Why does the United States not pay for a hostage? Because everybody would be taken hostage. It's an easy way to make a million dollars."
How did it feel to receive an honorary Oscar last year?
DS: "I was in Rome when I got the call. It was late and my wife and I sat there with some spaghetti on the table. We didn't say anything for ages – but finally my wife looked at me and said, 'You're going to have to lose weight for the ceremony'. For an old man who's never been nominated, it was wonderful. It was terrific. It was joyous."
Trust, starring Donald Sutherland, starts next Wednesday on BBC2 at 9pm. Trust is being released as a box set on BBC iPlayer on Wednesday 12th September.
Get the latest updates, reviews and unmissable series to watch and more!
Thank you for signing up to Whattowatch. You will receive a verification email shortly.
There was a problem. Please refresh the page and try again.