Up late with Rylan: 'We're on at 11pm, so we can get away with murder!'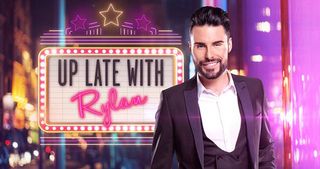 He's known as the king of banter as host of Channel 5's Big Brother's Bit On The Side – now Rylan Clark-Neal has landed his own entertainment show, Up Late with Rylan. Here he talks late-night naughtiness and life after The X Factor…
How does it feel to be fronting your own show, Up Late With Rylan?
"It's crazy. I'm so overwhelmed and it's almost like a pinch-yourself moment to think that Channel 5 have thought: 'Let's give the boy his own show'. I'm so chuffed that it's finally happening."
So what can we expect from this new show?
"Well, the show's gonna be on four nights a week at 11pm, so it will be pretty much the new late-night destination for people to go. In the 90s we had lots of late-night entertainment shows but there's nothing really on at that time now. We'll have amazing celeb guests, live music performances, lots of VT content, games and silly things. It'll be like a Celebrity Juice-Saturday Night Takeaway-Graham Norton-Chatty Man-TFI Friday p***-up! Or the night-time equivalent of This Morning… just a bit more near the mark!"


Channel 5
We know you enjoy a bit of banter on Big Brother's Bit On The Side. It is going to be a similar, light-hearted show?
"It will be light-hearted, but it's not going to be Bit On The Side – that's the important thing. It's pretty much gonna be me doing what I do, in totally different surroundings, with totally different guests not talking about Big Brother. It will be something telly needs at the minute – a real-time chatshow that talks about everything, is not afraid of anything and really has fun!"
I hear that some of the games will be quite mischievous…
"There's a couple that are a little bit mischievous – that's right up my street! Because where we're on at 11pm, believe me, I can get away with murder! And I'm not gonna be too frightened to play a couple of pranks on maybe some of my work colleagues as well. Anyone in particular? I think everyone needs to watch their back!"
What dream guests would you like to have on the show?
"Oh that's easy… all five Spice Girls. It's 20 years since Wannabe… and they're the biggest girl band. And I'd love to get Joan Collins, Naomi Campbell and Britney Spears on. Get them all on together, have a little chat and, if they start arguing, just let it play out. I'd love all that."
Do you worry about things going wrong?
"I do worry about things going wrong, but when things go wrong on BOTS and This Morning, I acknowledge the fact it's gone wrong and take the mick out of it whereas a lot of other people will try and cover it over. What's the point? If it goes wrong, it goes wrong."
Will you be encouraging viewers at home to get involved?
"Yeah, it's gonna be a real social show. Obviously viewers can come and watch the show whenever they want – we're at The Hospital Club in the middle of central London four nights a week. But viewers are also going to be involved with polls and votes – or maybe setting up a few of their friends to get involved in the show."
Can we expect you to break out with any song and dance numbers?
"It depends how drunk I get! We've got our own bar on set, so anything could happen. There will still be booze left for the guests – believe me, that bar's fully stocked, I couldn't get through it on my own."


Rylan with Big Brother host, Emma Willis
Will it be ALL fun or will there be a serious element – we know you've tackled serious interviews in the past?
"Yeah, and I'm glad that people have seen that now. It will be the most up-to-date show on telly as we film that day to go out at 11pm, so if something happens that's serious and it's political, for instance, I'll happily get an MP on and I'll ask them 'What the hell does this mean?' I'm gonna ask the questions that the viewers at home are gonna be screaming at the telly. I'm not frightened, I don't care if I look like an idiot, I'll ask it."
Sounds like Jeremy Paxman should start worrying…
"I don't think Jeremy needs to worry just yet. It's a different show. But he's more than welcome to come on!"
Congratulations on your nomination at the National TV Awards earlier this year. Is it nice to know that people take you seriously as a TV presenter?
"Yeah, it really is, especially as the NTAs are voted for by the public, so to know that the public have done that, it's just completely unreal. I was honoured to make the long list, let alone the shortlist. That really changed things for me and I think it sort of changed a lot of people's opinions of me. It's the fact that they went: 'Maybe we need to start taking this bloke seriously, he's not just dancing in a feather boa on The X Factor'!"


Rylan on The X Factor live shows in 2012
You did take a lot of stick from people when you first appeared on The X Factor in 2012 – do you feel like you're having the last laugh now?
"Yeah, actually, I really do. But without the stick, as awful as it was, I wouldn't be enjoying the highs as much as I am now. There's no greater feeling than when someone comes up to me now and says: 'I've gotta say, I really didn't like you on The X Factor, but you're such a great presenter, I really like you now'.
"I just think: 'Well, I was the same person then, as I am now, you just didn't see it'. I'm just doing my own little thing, in my own little world – and if people enjoy it, I'll keep doing it!"
Up Late with Rylan starts on Monday, May 9 at 11pm on Channel 5.
Get the latest updates, reviews and unmissable series to watch and more!
Thank you for signing up to Whattowatch. You will receive a verification email shortly.
There was a problem. Please refresh the page and try again.