Upstart Crow's David Mitchell: Ben Elton doesn't get the credit he deserves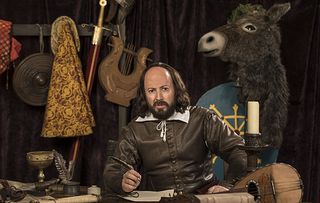 (Image credit: BBC/Colin Hutton)
David Mitchell feels for beleaguered Will Shakespeare as Upstart Crow returns
As Ben Elton's very funny Shakespearean sitcom Upstart Crow returns for a third series, there's no let up in the "slings and arrows of outrageous fortune" that beset the unfortunate Bard, who's played by Peep Show star David Mitchell.
In episode one, as Will struggles for inspiration while penning his latest work A Midsummer Night's Dream, his nearest and dearest – including wife Anne Hathaway (Liza Tarbuck) and father John Shakespeare (Harry Enfield) – continue to mock him about everything from his receding hairline to the fact that his "comedies" just aren't funny.
http://www.youtube.com/watch?v=xTYGmza0Skc
To set the scene, so to speak, TV Times caught up with Upstart Crow star David Mitchell to find out what's in store for the put-upon playwright and how he thinks Ben Elton should get more credit for his writing...
How do you think Upstart Crow rates alongside the rest of Ben Elton's comedy?
David Mitchell: "This series is one of the best things Ben has written… I don't think he gets the credit he deserves. He's written Blackadder (pictured below) and The Young Ones – I mean, that's more than anyone has a right to expect. Then there's a string of bestselling novels, and great stage plays – I'm a huge admirer of his."
What makes Shakespeare a good subject for a sitcom?
DM: "In Upstart Crow, Shakespeare has the classic 'sitcom dad' struggles. One of the recurring themes in the show is that his life was a practical struggle in various ways. He was based in Stratford and London, trying to make it in a new profession, and he wasn't a toff."
Why do you think some people still question whether Shakespeare wrote his own plays?
DM: "People are repelled by the idea that someone as ordinary as Shakespeare could be so talented. They'd rather it was some nobleman hiding his light under a bushel. Why would you think that? No one has suggested that it wasn't Mozart who wrote all that music, but the Emperor Joseph!"
What guest stars can we look forward to seeing?
DM: "There's a Mark Rylance tribute character played by Ben Miller! He is an actor called Wolf Hall [named after the 2015 period drama in which Rylance starred as Thomas Cromwell], who denies that Shakespeare has written his plays. And in the Christmas special we have Ken Branagh and Lily Cole!"
Upstart Crow returns on Wednesday 29th August at 8.30pm on BBC2. Series one and two plus last year's Christmas special will be available on BBC iPlayer for the next six months.
Blackadder pic: REX/Shutterstock
Get the latest updates, reviews and unmissable series to watch and more!
Thank you for signing up to Whattowatch. You will receive a verification email shortly.
There was a problem. Please refresh the page and try again.