Waterloo Road's Laurie Brett: 'Christine's hit rock bottom, but will rise like a phoenix!'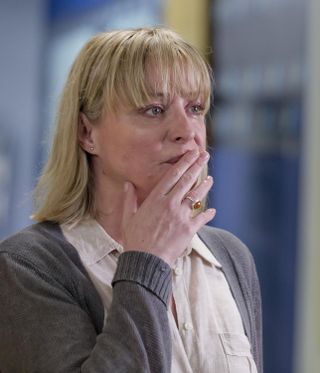 Following her alcoholic relapse in the penultimate episode of Waterloo Road, headmistress Christine Mulgrew finds herself at rock bottom in next week's series final.
Laurie Brett explained to What's on TV: "Christine thought she'd nothing to lose after she resigned so she carried on drinking at school! The climax saw her throwing vodka in the face of a police officer. This, and the fact she lied about her car being stolen – she actually crashed and abandoned it – resulted in her ending up in a prison cell."
Despite her drunk and disorderly fall from grace, is there light at the end of the tunnel?
Laurie revealed: "At the beginning of the next episode you see Christine sitting at home. You think, how much lower can you get? Everyone at school's seen her drunk and arrested. She's hit bottom. She has no lower to go, and in a way it unburdens her.
"It's out in the open – everyone knows who and what she is. She's faced worse in the past. It's almost like a phoenix rising from the flames."
But having resigned in a drunken haze and facing criminal charges, is there really any comeback from this tragic fiasco?
The final episode of the current series screens on BBC1 on Wednesday, March 12.
Get the latest updates, reviews and unmissable series to watch and more!
Thank you for signing up to Whattowatch. You will receive a verification email shortly.
There was a problem. Please refresh the page and try again.