Wendy Craig on Death in Paradise: 'Kris leaps about like a young puppy!'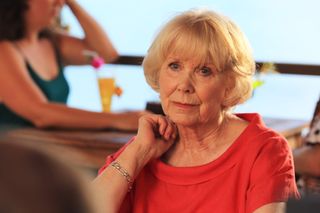 (Image credit: BBC/Red Planet Pictures/Denis Gu)
Wendy Craig, best known for her roles in TV's The Royal and Butterflies, turns up in Thursday's Death in Paradise (BBC1) as DI Humphrey Goodman's beloved aunt.
Here, she talks crime-solving… and getting cosy with the commissioner!
You're playing the beloved aunt of DI Humphrey Goodman (Kris Marshall) in Death in Paradise. What can you tell us about her?
"We discover Aunt Mary practically brought Humphrey up when he was a little boy as his parents were not around much, so she took him under her wing and they're still very close. Aunt Mary seems like a nice jolly lady with a sense of humour and Humphrey's really looking forward to seeing her and doing puzzles with her again."
And there's certainly a brainteaser to work out when Aunt Mary becomes the key witness to a murder on Saint Marie. How does she help Humphrey solve the crime?
"Aunt Mary has this very astute mind for working out problems and she gives Humphrey lots of help in finding out who's guilty. Aunt Mary loves working on the case – Humphrey makes her an honorary policewoman!"
While spending quality time with his aunt, however, Humphrey discovers a sad secret she's been keeping from him. What's wrong?
"Aunt Mary has come to Saint Marie because she's worried about her health. She wants to spend some time with Humphrey and explain everything to him personally, so that he doesn't hear it from anyone else."
It's not all drama for Aunt Mary, though, is it? Doesn't she get quite friendly with Commissioner Selwyn Patterson (Don Warrington)?
"Ha, ha! Yes, she has a little flirtation with Selwyn, who takes her around the island for the day because she's sort of clicking her heels while Humphrey's at work. Selwyn shows her all the sights and he's quite pleased to make friends with her. He's got a bit of twinkle in his eye - and he looks very nice in his uniform."
What was it like working with Kris?
"Kris was always extremely friendly and lovely. He's a very helpful boy… I say boy because he looks like a boy, but he's much older than a boy! He's boyish and leaps about like a young puppy. We did have some lovely scenes together."
Sounds like you really enjoyed working on Death in Paradise...
"Oh, it was an absolutely divine show to work on, I had such a happy time. All the cast and crew were lovely and I was very well looked after. Looking back on it now, I do sort of miss it. The thing about being an actor is you often get to work with such nice groups of people, but only for a short time – so when you all part, there's always that nostalgia for the fun time you had working together."
And we're sure it wasn't too much of a struggle filming on Guadeloupe?
"The heat was terrifying – I've never come across heat like it – and I got quite badly bitten by mosquitoes. But it was beautiful - the sea and the beaches were absolutely gorgeous. One day, I visited the botanical gardens, which was the most glorious place, full of sensational flowers, plants and waterfalls. It literally was paradise – I'll never forget it!"
Get the latest updates, reviews and unmissable series to watch and more!
Thank you for signing up to Whattowatch. You will receive a verification email shortly.
There was a problem. Please refresh the page and try again.