Whatever happened to the cast of Father Ted? Ah GO ON, you want to know!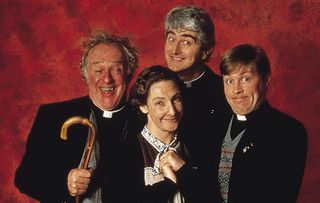 Go on... check out what happened to the stars who played Father Ted, Dougal, Jack and co. Down with this sort of thing!
Father Ted is one of the greatest and certainly one of the surrealist comedies of all time. Set on the fictional Craggy Island, it followed the adventures of Father Ted Crilly (Dermot Morgan), Father Dougal McGuire (Ardal O'Hanlon), Father Jack Hackett (Frank Kelly) and, not forgetting the tea loving Mrs Doyle.
Father Ted ran for three series between 1995 and 1998, here's what happened to the cast…
Father Ted Crilly – Dermot Morgan
Tragically, soon after after finishing what would be the final ever episode of Father Ted, Dermot died of a heart attack aged just 45 in 1998. Describing why the show became a huge success, Dermot once told The Independent: "It doesn't at first glance look like a winner. But people like the characters. If you want the audience to stick with you, you have to have attractive characters.
"Dougal and Ted are an idiot who knows nothing and an idiot who thinks he knows something but actually knows nothing. Ted is an Everyman guy, bumbling through life with a half-wit - half may even be overstating the fraction."
http://www.youtube.com/watch?v=beN7FftWNCM
In Father Ted, Dermot had undeniably brought to life one of the great comedy characters. His sad death meant that it's extremely unlikely there will ever be any more episodes of the sitcom.
Father Dougal McGuire – Ardal O'Hanlon
We all loved rollerblading Priest Father Dougal McGuire and how he'd torment poor Ted with his incredible stupidity. Ardal has admitted he never imagined it becoming such a big hit, telling The Mirror: "I mean, come on, it was about three priests on a remote island. I knew it was good and odd and different, but I didn't think it would work for a mainstream British audience because it was very Irish in its sensibilities.
"I thought it'd be a cult show on C4 at 3am." As well as his stand-up career, Ardal enjoyed another huge hit with the BBC comedy series My Hero, in which he played superhero Thermoman.
The popular star has also popped up in Doctor Who, voiced Robbie the Reindeer and is now cracking cases as DI Jack Mooney in Death in Paradise.
Mrs Doyle – Pauline McLynn
http://www.youtube.com/watch?v=XLTnacYvvg4
Poor Mrs Doyle. She waited on hand and foot for Father Ted and Dougal, always offering them a nice cup of tea (Ah… GO ON), for zero respect or credit. Recalling the part to The Guardian, Pauline notes: "Rarely a day goes by when someone doesn't mention it. Offers of cups of tea and such."
Pauline has enjoyed many roles since Father Ted, turning up in EastEnders as Charlie Cotton's mother, Yvonne (above). Other notable shows include Shameless, Threesome and Drop Dead Weird. And she's written a string of books and created her own range of tea cosies! Ah… GO ON, you know you want one!
Father Jack – Frank Kelly
Frank actually made his acting debut in The Italian Job alongside Michael Caine in 1969. He enjoyed a long and successful career, but to many he'll always be Father Jack, shouting "Drink! Feck! Arse!" at everyone. Later in life he worked with David Morrissey in The Deal and he even appeared in Mrs Brown's Boys D'Movie. Frank died aged 77 in 2016, strangely 18 years exactly after the death of Dermot Morgan. Asked about the success of Father Ted, he once said it was down to "the very close relationship between the cast. There was a lot of trust, we all loved each other."
Tony Guilfoyle (Father Larry Duff)
Ted would often phone up poor Father Larry Duff, with comically disastrous results, like when, distracted by Ted's call, he plunges off a cliff in his car! Tony has enjoyed a host of roles since, including appearing in the Neftlix hit The Crown and most recently appearing in the BBC1 series Broken.
Graham Norton (Father Noel Furlong)
Yep, a long time before he became a chat show legend Graham played the insufferable Father Noel Furlong. Graham recalled that while filming the famous caravan scene, where Noel Riverdances, he got stuck! "We danced so violently we warped the floor and the door got jammed shut," recalled Graham. "They had to remove the window so we could clamber out. The big view window at the end."
Bishop Len Brennan – Jim Norton
Jim only made three appearances in Father Ted, but he made a big impression as the ghastly, rabbit-fearing Bishop Len Brennan. It's one of the show's greatest scenes when the Bishop wakes up with Father Jack surrounded by an army of rabbits! Jim has enjoyed roles in a huge range of TV shows since, including Midsomer Murders and Elementary, plus he features in the upcoming movie, Mary Poppins Returns.
Father Dick Byrne - Maurice O' Donoghue
Father Dick Byrne's role was to wind up and torment Ted, although things didn't always go to play for Dick, becoming notably upset when his Song For Europe inexplicably loses to Ted and Dougal singing My Lovely Horse!
http://www.youtube.com/watch?v=jzYzVMcgWhg
Maurice was another Father Ted star to appear in EastEnders, playing a character called Eamonn back in 1997.
John and Mary - Patrick Drury and Rynagh O'Grady
We couldn't forget "loving" couple John and Mary, who'd always present a perfect marriage face to Father Ted before trying to kill each other the moment his back was turned! Since Father Ted Patrick has enjoyed roles in the likes of Midsomer Murders and more recently as the Lord Chamberlain in The Crown. Meanwhile, Rynagh - who before Ted had appeared alongside Tom Cruise and Nicole Kidman in the film Far and Away - was in Ballykissangel among other shows.
Father Ted is available to watch at All 4.
Paul McLynn pic: Press Association Images.
Get the latest updates, reviews and unmissable series to watch and more!
Thank you for signing up to Whattowatch. You will receive a verification email shortly.
There was a problem. Please refresh the page and try again.