Wild at Heart star Lucy-Jo Hudson: I'm working with giraffes again!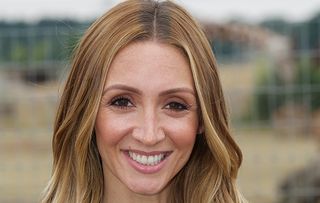 Lucy-Jo Hudson on how working with animals on Wild at Heart is helping her celebrate the work of British zoos…
Could the definition of love be giving a giraffe a neck massage? This is the question TV Times is left pondering after a lovely interview with Lucy-Jo Hudson about Channel 5's week-long celebration of British Zoos and their conservation work.
Lucy-Jo, 35, is the perfect candidate to be a roving reporter for the series. Her role as fan favourite Rosie Trevanion in ITV's vets-in-the-veldt drama Wild at Heart meant frequently working alongside wild animals, including Bailey the three-legged cheetah and Hamley the giraffe.
"I don't know what it is about giraffes, I just love them!" says Lucy-Jo, who got her big break as troubled Katy Harris in Coronation Street and is currently busy playing Hollyoaks' disturbed Donna-Marie.
"On my first day on the set of Wild at Heart I was sat in the back of a truck feeding giraffes from a bucket. From that moment I've been in awe of them. They're beautiful creatures, so gentle and calm. So when I was asked if I wanted to get involved in Big Week at the Zoo, I asked if they'd please let me work with giraffes - and they did, just for me!"
The series, presented by Countryfile's Helen Skelton and Springwatch Unsprung's Nick Baker, is based in a purpose-built safari studio at the Yorkshire Wildlife Park. Other celebrity contributors include JLS singer-turned-turkey-farmer JB Gill, Coast's Miranda Krestovnikoff, Extreme Animals star Steve Leonard and The Yorkshire Vet's Peter Wright.
Over the five episodes, the team will also link up with various partner zoos across the UK including: Chessington, Colchester and Edinburgh.
Here former Coronation Street and Wild at Heart actress Lucy-Jo Hudson tells us more…
How did you find working with the giraffes?
Lucy-Jo Hudson: "I got a full day with them at Yorkshire Wildlife Park. I was feeding giraffes, mucking out and helping move them. I helped massage older giraffe Behansin. He has a lot of back pain and a bit of arthritis, so the keepers massage him daily. It's blooming hard work – it takes a team of people, a big vibrating machine and some ladders! It was the most amazing job; I loved it. In all my pictures I'm smiling ear-to-ear, like a Cheshire cat."
What other animals do you work with?
LJH: "I went to Flamingo Land and spent time with their newborn babies. We see a baby zebra and little twin kangaroo joeys getting used to their surroundings. They're the first twin joeys born in the UK. I desperately wanted to cuddle one, but you can't. A baby penguin pooed on me! You just go along with it…"
What have you learned from Big Week at the Zoo?
LJH: "That the keepers must run miles every day! They do not stop – they're on call 24/7 in case an animal needs care. The series is a celebration of British zoos, their conservation and how they look after their animals. It's a real insight into what goes on behind-the-scenes, from importing and looking after bears kept in captivity in Japan to the crazy hours zoo keepers work to care for their animals."
Did your hands-on experience filming in South Africa for Wild at Heart help?
LJH: "When we worked at Glen Afric, where Wild at Heart was filmed, we were given inductions about what to do and what not to do so the animals could get used to being around you. They sense fear quickly and I learned that the more relaxed you are, the more hands-on you can be. Wild at Heart finished six years ago so it's been a long time since I've been up close and personal with wild animals, but it felt natural, like riding a bike."
Did you find yourself reminiscing about Wild at Heart?
LJH: "Completely! This show too is all about the animals. It took me straight back to my Wild at Heart days. I was 21 when I started the show. It was my first time really far away from home. But every year I got more confident with the animals. I've not been back but I'd love to take my daughter Sienna there when she's older"
Big Week at the Zoo airs next Monday to Friday on Channel 5.
Get the latest updates, reviews and unmissable series to watch and more!
Thank you for signing up to Whattowatch. You will receive a verification email shortly.
There was a problem. Please refresh the page and try again.