Youngers' Shavani: 'I said I'm going to be an actress - and left'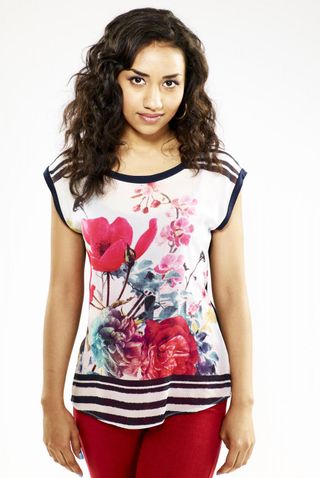 Shavani Seth stars in Youngers, E4's new comedy drama about three teenagers chasing their musical dreams. We caught up with her to talk about her new show..
What's Youngers all about?
"It's the story of these two teenagers, Jay and Yemi, who are best friends. Jay is very outspoken, live for the moment type guy. Yemi, is very serious, think of the consequences kind of guy, and they're trying to establish themselves in the music industry. They are 16 year olds who have just finished their GCSEs, their hormones are raging and they're just trying to be successful in music and then another girl comes into the picture called Davina, who I play. Davina's very playful, very out there and very flirty. She meets Jay and Yemi and they form a group called The Youngers and Davina brings a singing element to their group, which is mainly rap done by Calvin Demba, who plays Jay."
Can we expect a love triangle between these three character?
"Definitely. Sixteen year olds with hormones!"
Was it a difficult audition process?
"I heard about it in the open auditions for the seires, not the pilot. I saw the brief and thought it wasn't for me. I sent it round to all my friends and then two months later I heard they were still auditioning for the role. My agent sent up almost everyone on the books. Then she called me up to ask 'Can you rap?' I was like no, but I'll give it a go. I got an audition which went really well and I met Ade at the audition. I got call backs, they'd seen 350 girls for the role. It was very intense and then a month later I'd found out I'd got the role and I was over the moon."
Do you have friends doing this muisic thing for real?
"I have a few friends who are trying to get themselves into the industry so I could draw from their experiences."
What do your mates think of this, will they watch it?
"They're really happy for me. The first day it was in the Evening Standard I heard my little brother going 'Yeah man, it's my sister!' everyone's happy and excited and looking forward to it."
It's refreshing to see this side of breaking into the industry - rather than X Factor...
"Youngers definitely has a lot of realness. It shows what young people are about nowadays and the struggles they are going through. It's not as glitz and glam and as easy as going on X Factor and being the next winner. It's showing the hard times."
Did you ever aspire to be a musician yourself?
"I always wanted to go on Stars In Their Eyes. I used to say to my mum I wanted to go on it. I once did a short monologue play where I had to sing and it was the scariest thing for me. But I overcame that hurdle."
In terms of where it's filmed, were you guys brought up in London?

"Yeah, south London, Mitcham. Not that far away. I recently did some work in Peckham with the Royal Court Theatre. I know Peckham quite well. It was so much fun to film there. Very lively, colourful. It's nice to bring that back to the screen because the last time we had that was Only Fools and Horses and Desmonds."
Also good to see something positive like this from that area. Just over a year ago there were the riots?
"Yes and people from the community are involved as well. Extras. They had an audition in Peckham at the Damilola Taylor centre."
Did you ever consider training at the Brits school or a performing arts school?
"I was interested in drama school and I applied and got into Rose Bruford, but at the same time I got an agent so I was juggling it. So I chose the agent and just kept my fingers crossed and eventually I started to get work. It was predominantly theatre work which I enjoyed. I love learning on the job, I'm a very practical person, I would never say 'No I'd never go to drama school' because I think you learn amazing skills, but you also learn those skills doing short courses which I've done."
Was there a turning point for you when you decided you wanted to act?
"When I was 15 I started doing drama and I enjoyed it, but I didn't see a career in it. I just wanted to do it as something after school. I did school plays and fringe shows. I remember my mum saying you need a back-up plan, you can't just do theatre. Go and study health and social care. You're going to be an occupational therapist. So I went to a college and it was really close to my house and I remember being in class and the teacher had to go and pay her car tax when she was supposed to be teaching us. Eventually she came back and I was on the phone to my dad saying I didn't want to be there. He's so supportive of me and he said go to the desk, hand in your book and tell them you are leaving and you're going to be an actress. So I remember picking up my book which I'd paid £22 for, going up and saying I'm going to be an actress. I left and I never turned back. That was my turning point."
Who has inspired you?
"So many.. I think Denzel Washington and Idris Elba are brilliant."
You mentioned part-time jobs, what's been the worst?
"Waitressing. It helped me. I love talking to people. So from that sense I loved it, but you get these really arrogant people. I remember the day when I got the call telling me I had the job and that same morning I was polishing 200 glasses. And my manager came over and said 'Still looking for that big break?' and walked off. I wanted to smash all the glasses. Then I got the call after I finished my shift and I ran back in the restaurant, and ran round saying 'I'm leaving!'"
*Youngers begins on Wednesday, March 20 at 7.30pm on E4*


Get the What to Watch Newsletter
The latest updates, reviews and unmissable series to watch and more!
Feature writer for TV Times, What's On TV, TV & Satellite Week and whattowatch.com
Sean has been writing about all things telly for over 10 years and in that time he's been lucky enough to interview stars like Ian McKellen, Tom Hardy and Kate Winslet. His favourite shows are The Great British Bake-Off, People Just Do Nothing and Succession and in his spare time he enjoys drinking tea, doing crosswords and watching football.