David Walliams hits the Golden Buzzer for a love story on Britain's Got Talent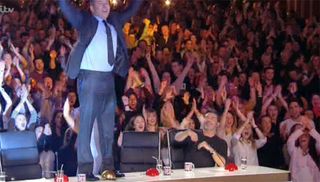 Anne and Ian Marshall's 44-year love story won over all the Britain's Got Talent judges and the audience…but it was David Walliams (opens in new tab) who jumped on the judges' table and stamped on the Golden Buzzer after their performance.
Anne and Ian, in their sixties, sang Beyoncé's Crazy In Love because "it shows how we feel about each other", they told the panel.
David goes for gold with singing couple Anne and Ian
"We were soldiers when we met," they said. "We met on a Wednesday and married the following Saturday. People said it would never last.
"It will last till the end of our lives," Anne added, looking at Ian.
Their performance had David, Amanda Holden (opens in new tab) and Alesha Dixon (opens in new tab) up on their feet and dancing. Then David danced around Simon Cowell (opens in new tab). Then he danced on the judges' table.
And when Anne and Ian finished, David stamped on the Golden Buzzer and sent them straight through to the semi-finals.
Anne and Ian enjoy their golden moment
"I think the pair of you really are the spirit of Britain's Got Talent," he told the delighted couple. "You have this beautiful relationship."
But did Simon agree?
"Actually, for once, I get it," he said. "Acts like you make me love this show."
None of the judges got quite so soppy over the other acts auditioning – but there was a few that made them sit up and take note.
Craig Ball and Balance were two very different impressionists – but the judges were full of praise for both of them.
Craig sang the Miley Cyrus (opens in new tab) hit Wrecking Ball – but in the voices of a whole host of characters, including Kermit the Frog and Miss Piggy.
Craig Ball smashed it with his impressions, with Kermit just one of many voices he mimicked
"It was current and it was clever. I think we may have discovered a big star," Simon said.
"A brilliantly original way to do impressions," added David.
Balance (real name Taylor Goodridge) did dance impressions - including one of former BGT contestant Susan Boyle (opens in new tab) – that impressed everyone.
"Any time we have a problem with a dance groups not being imaginative or unique, I'm going to say, 'Just watch Balance'," said Simon. "You made it unique and funny."
Dancer Balance was on point with his routine
"Fantastic to watch," said Amanda.
The judges were all agreed on the Presentation School Choir from Ireland, too.
Simon was particularly taken with the choir leader, Veronica, telling her she looks "cute".
But he did have a criticism after they had performed Adiemus by Karl Jenkins.
Choir leader Veronica got a massive compliment from Simon – then criticism


"The song didn't showcase their voices until the end," said Simon.
But he loved the choreography and so did Alesha.
"Veronica, you are cool!" Alesha shouted.
"Beautiful blend of voices and the choreography worked perfectly," added David.
Kathleen Jenkins, a cleaner from Wales, showed off her voice beautifully, even though she was nervous.
After she sang Wild Horses all the judges were on their feet and the audience was shouting for more.
"Kathleen, I've been waiting for you," Simon told her. "You're some who has just got 'it'. I love everything about you…the tone of your voice, the way you controlled the song. I think you're really, really special."
"Your nerves added to your charm," added Alesha. "I want more."
Singer Kathleen Jenkins hid her nerves and had the audience shouting for more
"That felt so emotional," said David. "You have a God-given talent and the world needs to hear it."
You can see all 13 acts from this round of the auditions here (opens in new tab), including the dancing dinosaur.
Britain's Got Talent (opens in new tab) continues on ITV, Saturday 30, 8.00pm.
Get the What to Watch Newsletter
The latest updates, reviews and unmissable series to watch and more!