British Soap Awards host Phillip Schofield: 'Being live will add so much more excitement'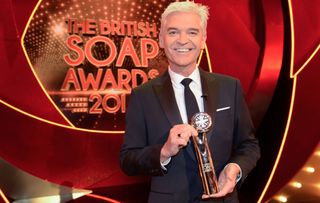 As The British Soap Awards 2017 is broadcast live for the first time, host Phillip Schofield talks pre-show nerves, messy aftershow parties and reveals who his all time favourite soapstars are....
British Soap Awards host Phillip Schofield says he's all prepared for the event's first live broadcast. What could possibly go wrong? Well, we asked the man himself..
How are you feeling about the Soap Awards being live for the first time? "Live TV is not a major worry for me so that's OK. I had a think back to past events from the awards and thought, is there anything that, if it had gone out live, would have been a catastrophe and I thought actually, no, not really. So that's a relief!"
Are you worried about anything going wrong? "The actors are all pretty good, they come to have a great night out and celebrate, but it's a strange biological thing with all soap stars that they have bladders the size of 10 pence pieces!
"When it's pre-recorded we don't stop filming for commercial breaks and it doesn't give them any time to get up and go to the loo. Now we have got real commercial breaks, I'm terrified we'll come back on air and the winner won't be in their seat, they'll be in the toilet!"
Like Harry Styles from One Direction at the Brit Awards? "Precisely. So that could happen. But I love the fact it's going to be live because with a recorded show and because of social media, it always gets a bit spoiled. The winners will immediately tweet pictures of whose won what, which they have every right to do, but then the fans get hold of it, the papers get hold of it and by the time the cameras have gone cold, every one knows who's won what. I think the fact we'll all discover at the same time this year will add a real excitement to it."
How nervous will you get beforehand? "You're always a bit nervous when you start something like this. You just want to do a great job, but I know I'm amongst friends. I've met most of them before on This Morning or interviewed them, so it's a lovely atmosphere. I think it will be a great night."
Have you got a soft spot for one particular soap? "That would be tricky and unfair because they've all had great years, so no, I'm there to celebrate all soaps from all channels and it would be unfair to pick out a favourite."
Have you got your outfit sorted? "The suit was picked a few weeks ago so I know what I'm wearing. And I have the same team who work with me on pretty much everything I do so we all know each other incredibly well, which is great. David who does my clothes always manages to find a smartish, sharpish suit. I've made sure it fits, because we've all been there – you really don't want to be going live on telly and suddenly realise that one of the legs isn't turned up!"
Do you feel you have to have a spray tan to fit in with the assembled soap stars? "Ha ha. No! I might have just a little bit of extra blusher!"
Has anything ever gone badly wrong during past Soap Awards? "I think the things that go wrong usually happen at the party afterwards. I normally go along, say well done to everybody, have a quick drink and then run for the hills before it's gets messy, which it always does!
"They all have an absolute ball, but I've got quite a good radar and I can tell when it's time to leave! I tend to slide out and let them get on with it."
Which storylines over the past year have really stood out for you? "Every single one has had its moments. In Hollyoaks you've got the high octane drama of bodies stashed in walls and the Ellie and Nick storyline that opened a really important debate on alcohol and sexual consent.
"Emmerdale won best soap last year for the first time and of course they've recently won a BAFTA. Ashley's dementia storyline has been so widely praised and Rhona's domestic rape scenes were shocking.
"In Doctors, you've had the twists and turns of a couple fighting to find their baby. In EastEnders we saw Ronnie and Roxy drowning in the pool and Phil thinking he was dying and let's not forget Corrie. The wonderful thing about Corrie is the mixture of humour and drama. Within a matter of seconds you go from the very dark grooming storyline of Bethany to Norris bickering over Bon Bons in the Kabin.
"Malcom Hebden who plays Norris is incredible, his performances are always gentle, brilliantly timed pieces of comedy acting. And don't forget poor old Ken being shoved down the stairs. Who pushed Ken?! It's been a hell of a year!"
Has your This Morning co-presenter and good friend Holly Willoughby ever come to the awards? "No she hasn't actually. With things like that we tend to run our own schedules. Socially we mix a lot, but when it comes to telly, we're husband and wife on This Morning and then the other stuff we tend to go off and do by ourselves."
What's your favourite Soap Awards category? "Best Villain is always great. We got rid of Sexiest Male and Sexiest Female because I think that was a bit out of place. You've got the hotly contested Best Actor and Best Actress, those are the ones that everybody wants to win. They're the real beacon at the end of the ceremony. And I personally love all the action scenes, so Best Scene Of The Year is a favourite of mine too. It's amazing how much they all achieve with special effects and stunt people. The big action scenes are breathtaking and always have been."
Which soap stars do This Morning viewers tend to love? "I'd say it's very much a mix. We've very lucky to have Sharon Marshall on our sofa who's a writer for Emmerdale and she sometimes writes for EastEnders, too. She's annoyingly discreet which is a bit of a nuisance. I don't think we've ever managed to squeeze any exclusives out of her, but obviously she wants to keep her job! But I think Sharon brings us a slightly closer insight into Emmerdale on This Morning purely because of writing for it."
What is your all-time favourite soap scene from the past? "For sheer shock value it would have to be Angie and Den and Den serving Angie the divorce papers in the Queen Vic on Christmas Day. That's in the days when there were 20 million or plus viewers, so those scenes become huge TV events."
And who is your favourite soap actor or character from the past? "Jean Alexander who played Corrie's Hilda Ogden – what a comedy genius she was. She had perfect timing and she was so completely different in real life to the character she played. She was a very quiet person. I never got to interview her on This Morning which is a real shame. The same with Betty Driver from Corrie who played Betty Turpin. She was another fantastic character. I've got a signed picture of her in my study."
The British Soap Awards Live 2017 will be on ITV, Saturday, June 3, 8pm
Get the latest updates, reviews and unmissable series to watch and more!
Thank you for signing up to Whattowatch. You will receive a verification email shortly.
There was a problem. Please refresh the page and try again.