Call the Midwife's Helen George: 'I spend most of this series in a woolly leotard!'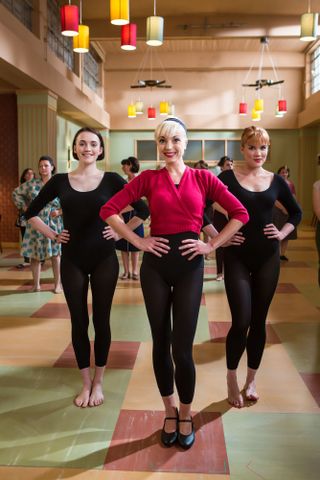 (Image credit: BBC/Neal Street Productions/Sophie Mutevelian)
As Call the Midwife returns to BBC1 this Sunday for a fifth series of high drama for the nuns and midwives of Poplar, nurse Trixie Franklin has ditched the booze and discovered Keep Fit.
Actress Helen George talks Trixie's new start, body confidence… and woolly leotards?!
At the end of the last series of Call the Midwife, Trixie finally admitted she had a drink problem and joined support group, Alcoholics Anonymous. Is Trixie over her troubles as the drama returns this week?
"Trixie's sorting herself out, she's healthy and she's really focusing on exercise. As the series begins, we discover Trixie's joined a Keep Fit club in the local village hall. She then qualifies as an instructor and starts her own club and drags all of the other midwives along because she's worried no one will be there."
So, is Trixie just throwing herself wholeheartedly into exercise?
"I've known people who've struggled with addictions and, when they're trying to heal themselves, they almost need something else to focus on. For Trixie, exercise becomes a major part of her life."
Have you approached this series differently?
"Yes, I have approached this series with a different attitude. It's a much more positive move for Trixie, which is great to play after last year because there was just so much trauma and upset in her life and quiet unrest that, this series, it's great just to wipe the slate clean."
Out of all the midwives, Trixie always seems to have the most fun…
"Yes, only this time she's fun without a drink! So that's interesting as well, knowing that, in certain social gatherings, or when we're all in the bedroom together, Trixie doesn't have a whiskey any more. Some people are aware of it, but not everyone is, so it's a quiet choice that she has to make and not something she advertises."
There is a serious element to Trixie's Keep Fit storyline when one of her elderly class members ends up being diagnosed with a severe medical condition. What happens?
"Basically, one of the older ladies in Trixie's class really doesn't understand her own body. The bigger story here is about celebrating the female form in every shape and size it comes in. It's about allowing independence for women and it's about women finding their voice and finding the strength to talk."
Did filming the exercise storyline boost your own body confidence?
"I spend most of this series in a woolly leotard! Two years ago I thought I'd NEVER appear in a leotard on TV – but I'm all right with that now."
Aside from the leotards, we hear the midwives also have new uniforms this series. Do you like them?
"They're amazing! We're so happy with them. They're a softer blue, almost like a cotton denim, they've got a waistband, and then they flare out - they feel much more feminine. And we've got a cape! So we've got rid of the grey macs and for about a year and a half I've been pushing for us to have capes. I've got this image of us as super heroes!"
What do you think it is about Call the Midwife that people love so much?
"I honestly don't know. It's just one of those weird things; who can quantify it, who knows? On paper, it probably doesn't sound like something lots of people would watch – a programme about nuns and midwives…"
So why DO people watch it?
"I think when it started there was nothing really like it and the Sunday night drama slot was becoming more popular. Maybe it is that it's so unlikely and it's warming – but at the same time there's rarely an episode where people aren't crying."
Call the Midwife certainly tackles some pretty tough issues…
"I think the thing about this show is that it lulls you into this lovely Sunday night tea-and-cake-comfortable feeling but then hits you with storylines about racism, homosexuality in the 60s, abortion and incest. In this series, we explore the issue of babies affected by the morning-sickness drug Thalidomide."
On a lighter note, can we expect any romance for Trixie this series? Or has she sworn off men for now, after breaking off her engagement to local vicar, Tom Hereward?
"I bloody hope not, she's not a nun! She's not going to make that move! No, I think she's just taking some time for herself and we'll see what happens with the love life."
Finally, are you sad now that Strictly's over?
"When I got eliminated two weeks' before the final, I really missed Aljaz [Skorjanec, her dance partner]. But we all went back for the final week, so I got to see all my mates again, which was fun."
Get the latest updates, reviews and unmissable series to watch and more!
Thank you for signing up to Whattowatch. You will receive a verification email shortly.
There was a problem. Please refresh the page and try again.