Call the Midwife's Una Stubbs: 'Just being really sad was a nice change'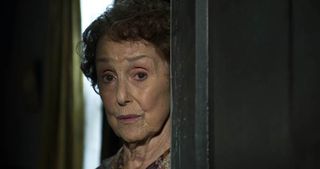 (Image credit: BBC/Neal Street Productions)
TV Times talks to Una Stubbs about her guest role as Gert Mills an impoverished pensioner whose elderly husband Tommy, played by the late David Ryall, is bedridden in Call The Midwife (Sunday, BBC1)...
How does Gert feel about other people wanting to help her and Tommy?
"It's very sad, she's looking after her husband, but she's not in a fit state herself and she won't let on. She has always coped and suddenly she can't, but she won't give in. Even though she is frail, she is so stoic and doesn't want to be a bother and I'm a bit like that myself."
Do Gert and Tommy, who are relatives of handyman Fred, have a really close bond?
"It is a real romance and that's what makes it so poignant. They are one of those couples that love each other so much they neglect people around them. But he is her priority, even before herself, and that is quite typical of that era."
Have you enjoyed the opportunity to play a very different character from usual, as well as the chance to dress down for once as dowdy Gert?
"I didn't want to look! I'm not good at watching myself on screen anyway, because you never know if you've pulled it off. I liked the variation of the role though, not being jolly and just being really sad was a nice change.'
Are you a fan of Call the Midwife?
"It's quality. Although it can be sad, it is gentle, but sympathetic with the times."
Did appearing in Call the Midwife bring back memories of a simpler time for you?
"I am really interested in that era and although Gert is obviously in more dire straits than most, I remember that we did just have to get on with things then. There weren't places like Marks & Spencer; if you wanted a cake or a dress, you had to make one. So I do remember places like the haberdashery shop they have in the show."
That said, the 1960s were certainly life-changing for you. After working as a dancer, you became a household name as an actress in TV shows such as classic sitcom Till Death Us Do Part...
"I was working from when I was 15, but the Sixties were when I stepped out from being in the chorus and that was really exciting."
You're currently co-presenting BBC1's The Big Painting Challenge and then later this year more Sherlock, which returns for a special before a new series in 2016. Does the speculation and excitement which surrounds the hit drama faze you?
"I do enjoy it, I've had to give a whole pile of scripts in to be shredded! People always come up and say they love Mrs Hudson. She's like I am with my sons and that's why I played her that way. In real life I'm protective of Benedict and Martin too, I won't hear a bad word about them."
It's clear that you have no intention of slowing down and love keeping active...
"I still walk a lot and dance. I was on stage with the play The Curious Incident of the Dog in the Night-Time and I danced in that, but obviously in a way that is appropriate to my age group. I don't hurl myself all over the place like the young ones do!"
Get the What to Watch Newsletter
The latest updates, reviews and unmissable series to watch and more!