Casualty interview! William Beck: 'Dylan and Ciara's story is the definition of tragedy'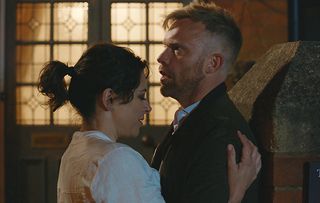 (Image credit: BBC)
Casualty star William Beck reveals doctor Dylan Keogh is floored by unexpected tragedy
If you've read this week's Casualty spoilers you'll already be aware that tragedy strikes for doctor Dylan Keogh when Ciara Cassidy (His girlfriend? Ex? Fling? Mistake? Redemption?) is admitted to the ED with abdominal pains this weekend.
It's an unexpected development and understandably sends Dylan into a tailspin. In fact, only last week he discovered that Ciara was married! Is Dylan's relationship with Ciara (The Inbetweeners' Belinda-Stewart Wilson) in danger of taking him to dark places?
Here, we talk to Casualty star William Beck about Dylan Keogh's vulnerability in the face of tragedy and addiction...
Last week doctor Dylan Keogh discovered that his girlfriend Ciara is married! What attracts him to her?
William Beck: "I think he sees a kindred spirit in Ciara. Having met at AA he knows she's got addiction issues, which Dylan has his own experience of. Ciara also leaves Dylan in no doubt that she likes him. And it's fair to say that sort of thing – the fact that somebody might like him - doesn't easily penetrate Dylan's consciousness. Really, it boils down to animal attraction!"
No man is an island, not even Dylan!
WB: [Laughter] "I know! There are many who campaigned long and hard to keep it that way, but he has been breached!"
Yet, he was wary of Ciara when they first met?
WB: "She's persuaded him by talking about dogs and things like that! There's also something to be said about the coincidence of his ex wife Sam (Charlotte Salt) dying, as well as their having met at AA. I think at first he does feel, ever so slightly, that it's against his better judgement, and it very rapidly spirals into something way beyond his control."
This week Dylan realises Ciara (Belinda Stewart-Wilson) is pregnant, but in danger of losing the baby. What can you reveal?
WB: "There's a bitter sweetness to this episode. Dylan and Ciara are aware from the first that it can't possibly work. But they share something, and they both want the same thing, and yet can't have it - that's the very definition of tragedy isn't it?"
How does Dylan cope with the news Ciara's losing their baby, while also keeping it a secret from her husband Joel?
WB: "It's as gut wrenching as it could be, and because it happens at his place of work Dylan has to deal with it himself. It's raw. The news [he's a father] is broken at the same time as it's dashed for him. Quite honestly it's not very hard to act, you just have sympathy for everyone concerned."
Is there a danger of recovering alcoholic Dylan drowning his sorrows?
WB: "The writers have done a fantastic job of creating a story that involves alcoholism but its not really about the booze. It's about the collateral damage of addiction, and how it has a knock on affect. It doesn't just affect one life, but also those around trying to help. Ciara and Dylan find themselves at the eye of a storm that's of their creation but in no way under their control!"
It sounds like there's a lot more to come for Dylan…
WB: "I'm pleased with the direction he's going in. He's capable of strong feelings, and honestly it's just great fun to be able to open that door and maybe surprise people. I love being in Casualty and very much enjoy taking a story by the scruff of the neck!"
We're excited Sharon Gless is due to appear in Casualty again later this year…
WB: "It's enormously flattering Sharon Glees is returning to play the very brash and very brilliant Zsa Zsa Harper-Jenkinson. She's amazing and absolutely wonderful to work with."
Catch William Beck in Casualty on BBC1 this Saturday at 8.35pm
Get the latest updates, reviews and unmissable series to watch and more!
Thank you for signing up to Whattowatch. You will receive a verification email shortly.
There was a problem. Please refresh the page and try again.