Amanda Mealing: Connie and Elle's friendship in Casualty is surprising!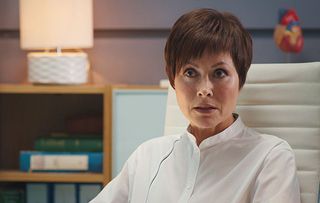 (Image credit: BBC)
Casualty star Amanda Mealing reveals why Connie Beauchamp is blindsided by her friendship with Elle
Accomplished consultants Elle Gardner and Connie Beauchamp have been through hell and high water together. On a daily basis they battle to save lives, side-by-side. Yet despite this intense working relationship they've never managed to become friends. Judging by Casualty's new trailer, however, this looks all set to change when they go on an impromptu road trip that would give Thelma & Louise a run for their money!
Casualty star Amanda Mealing, who plays Holby ED's clinical lead, Connie Beauchamp tells us more…
We're shocked Elle and Connie may become friends this week!
"It's a good episode. There are some really fun storylines since Connie's come back to work with her heels on and a new haircut! It's a surprising friendship because Connie doesn't do friends…"
Does Connie even know how to be friends with someone she also works with?
"Over the coming episodes we will see Connie's confusion about what friends do. When Connie and Elle are in conflict at work, Connie assumes that goes outside as well!"
Elle's a really warm person; will she show Connie the friendship ropes?
"Elle shows Connie that friends can be enemies at work and friends outside. It's sweet really that someone can be at Connie's age and still not understand how to make and keep friends!"
Find out if friendship blossoms for Elle and Connie in Casualty this week when they experience a burst tyre, a robbery at a petrol station, and hit the hotel mini bar after they're given a double room to share. Fingers crossed they talk about Jacob – Connie's ex and the father to Elle's son Blake after a one-night stand!
Get the latest updates, reviews and unmissable series to watch and more!
Thank you for signing up to Whattowatch. You will receive a verification email shortly.
There was a problem. Please refresh the page and try again.