Casualty's William Beck: 'Dylan's emotionally blackmailed into the clinical lead job!'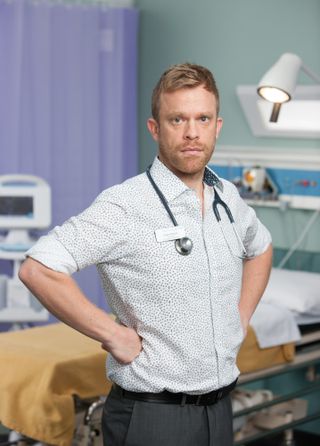 (Image credit: BBC/Jay Brooks)
In a surprise move by the Holby City big wigs, cynical consultant Dylan Keogh is appointed acting clinical lead on BBC1 on Saturday. But is he the right man for the job?
What's on TV talks to Casualty's William Beck about Dylan's unexpected promotion!
Dylan's not known as a team player. Why does he say yes to the acting clinical lead job?
"Excellent question! There is quite a high level of emotional blackmail by his friend Zoe Hanna (Sunetra Sarker), which persuades him to give it a crack!"
Blackmail! Tell us more…
"She assures him there will be residual benefits, such as the opportunity of hiring and firing, which is very appealing to him! But in the end those benefits turn out to be very much on the fringe or don't materialise, and he struggles with the meat and veg of the job."
What are the main challenges of the clinical lead job for Dylan?
"Dylan's someone who's used to treating diseases and illnesses in isolation. So when he has to manage things in a more holistic way it seems he's left floundering. There's also a lot of paperwork and box ticking to the job, which could set him up for a fall. He's going to learn a lot about himself!"
You've been playing Dylan on and off since 2011. Are you really under the skin of him now?
"I know Dylan like the back of my hand. I kind of did from the first time I read what had been written for him. It might not have been exactly what was imagined, but I just knew him inadvertently. It doesn't happen as often as you think!"
He's a quirky character. What's your take on him?
"People describe him in all sorts of pejoratives. They say he's got Asperger's, he's rude, uncaring. I think I'd be doing an enormous disservice to people who have Asperger's Syndrome if I said I were trying to play him in that way with any sort of authenticity. It's important not to generalise these things too much. I have my own feelings about Dylan and I'm happy for people to read into him whatever they want to."
Given that the role of Dylan really clicked for you, would you say you share any characteristics with him?
"We're a similar height – but the camera adds about six stone and makes you a look lot shorter! Other than that I share an enthusiasm for calling a spade a spade. You can't play a character properly and really enjoy the part unless you have a degree of understanding of where they're coming from and have things in common. But where Dylan represses none of his characteristics, I'd say I probably sit on them about 85 per cent of the time. You never know when you're going to get a bit of Dylan with me!"
What sort of reaction have you had from Casualty fans?
"I do get the odd four-letter word but, on the whole, very nice. I'm very fairly treated. People of a certain age have a fair bit of sympathy [and like] that he doesn't muck about. They also see the funny side quite a lot. Some people get upset with he comes between the love lives of their favourite characters. With Sam and Tom, for instance, fans sent me poison pen letters! So I want to emphasise to fans of Zoe and Max that I present no immediate threat to them!"
Dylan's two loves are his dog, Dervla, and boat, surely?
"They are quite important! They become a little bit of a ball and chain for schedulers and writers because it can be genuinely awkward trying to film with a dog, especially given the rate we work at on the show. And the boat has its own difficulties. It's a terrible fire hazard if nothing else! But viewers can rest assured, even if they don't see them, Dylan does go home to them."
What keeps you returning to the role of Dylan?
"First and foremost it's a very occasional thing to come across a part that's written in a way you understand and that, perhaps, even the writer didn't intend. This third dimension is just a bit of luck. It's quite hard to forget something that enjoyable, so it was lovely to come back. I really do enjoy the challenges of Casualty. Every week there's a new script, another character to meet and another challenge. We don't always succeed, but when it works it's very satisfying indeed!"
Get the latest updates, reviews and unmissable series to watch and more!
Thank you for signing up to Whattowatch. You will receive a verification email shortly.
There was a problem. Please refresh the page and try again.